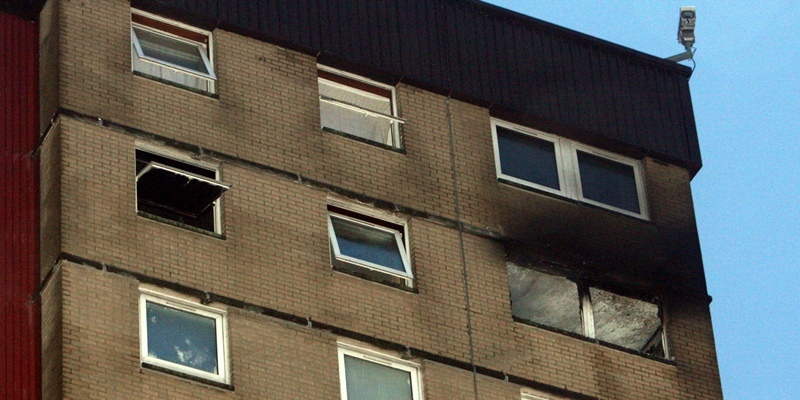 A tragic accident appears to have caused the "very destructive" fire that claimed the life of an 86-year-old Lochee man in his multi-storey home.
Police and firefighters are continuing a joint investigation into Wednesday's blaze at the flat in Adamsons Court.
Detective Chief Inspector Shaun McKillop said the initial indication was there were no suspicious circumstances surrounding the outbreak.
Forensic squads have established David Baillie was not in the room where the inferno started, but the exact cause of the fire has yet to be determined.
DCI McKillop said, "There are still inquiries going on with the fire at Adamsons Court but there appears to be nothing suspicious at this stage."
The flat's kitchen and living room was "completely destroyed" in the incident, which also caused damage to other properties in the building.
Tayside Fire and Rescue's group manager Andy Hermiston said the pensioner was found in a different room from the source of the fire, which had generated "large volumes of smoke and heat."
Mr Hermiston, who was among the firefighters who tackled the blaze, added it was too early to be drawn on the cause.
He said, "The fire was contained to the flat of origin, thanks to the design of the building and its safety features, but it was very destructive."
Last April, David Baillie (86) was reunited with a fellow second world war veteran who grew up just yards from him in Lochee after the pair met at Ninewells Hospital 70 years after last seeing each other.
He grew up in a nearby street to George Watt (91) but had not seen each other since Mr Watt was drafted when he was 18.
After the war both men returned to Dundee but their paths did not cross again until the chance meeting, when they were both being treated overnight in Ninewells Hospital for minor conditions.