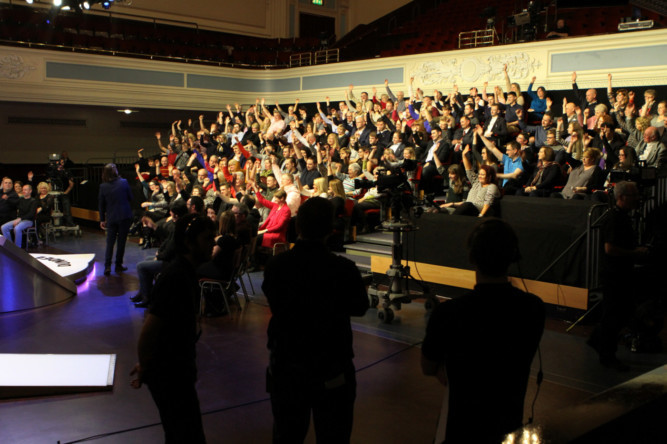 A Dundee woman has hit out critics of Question Time who have claimed people without Dundonian accents do not properly reflect the city.
Last Thursday's Question Time provoked a furious online backlash from people accusing the BBC of bias because so few members of the audience in the Caird Hall spoke with a Dundee accent.
They also claimed the panel did not reflect Dundee – despite the presence of Dundee born-and-raised Labour MSP Jenny Marra – because the city voted 57% to 43% in favour of Scottish independence in 2014.
As well as Ms Marra, the panel included Scottish Conservative leader Ruth Davidson, Scottish Government finance minister John Swinney, Scottish Liberal Democrat leader Willie Rennie, Patrick Harvie from the Greens and the Daily Telegraph's Timothy Stanley.
People were still complaining about the programme on Twitter over the weekend.
Barbara Young posted: "Still seething over the mockery that was question time. Dundee must have been forcibly cleared of its citizens. Disgraceful. #bbcqt"
Commentator Lesley Riddoch said: "The strangest thing about Question Time from Dundee – it WAS balanced. But not to reflect political reality in Dundee."
But Australian Susan McKenzie, 51, said just because someone does not have a Dundonian accent does not mean their opinions should automatically be discounted.
In a letter to The Courier, she said: "Thirteen years ago I moved from the other side of the world to Dundee.
"Establishing a new life was made so much easier by the incredibly friendly and welcoming people of this city. Sadly, following Question Time from Dundee, some seem to think that as I don't speak with a local accent, the validity of my opinions is questionable.
"I've lived in Dundee for 13 years and my youngest child was born at Ninewells. None of us speak with a Dundonian or Scottish accent but nonetheless we are active and involved residents of this city.
"Dundee has a teaching hospital, gaming industry, research institutes and two universities all of which attract people from across the world and within the UK.
"Not surprisingly many accents are heard in and around the city. The Scottish Government is trying to attract skilled migrants to Scotland. Those who imply that an opinion on local matters is more worthy if you have a local accent do this city no favours."
In a letter to The Courier, she added: "People are really friendly. When we moved here we got a card saying 'Welcome to God's Own Country' and people continue to be friendly.
"But there is an element that makes me feel uncomfortable that says you're not Scottish unless you speak with a Scottish accent.
"It is a minority that think that – most people are fabulous."
The BBC defended the audience selection for the show and said every person selected for the audience lived in Dundee and the surrounding area.