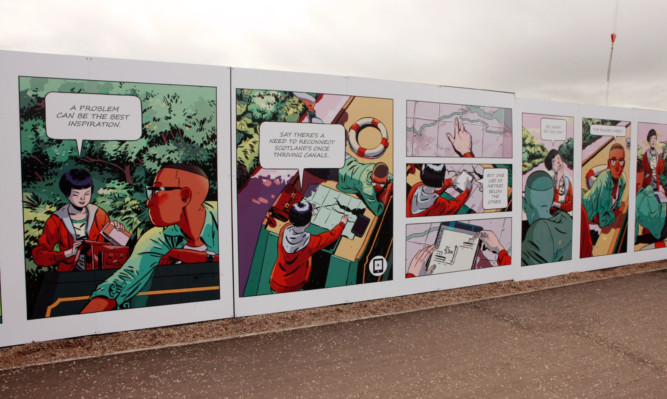 The V&A Museum of Design Dundee is to represent the UK at a major international design festival in Italy.
The new museum will present Adventures in Design, a specially commissioned comic strip charting the story of some of the UK's design innovations by Will Morris and David MacKenzie at the XXI Milan Design Triennale in April, which attracts a global audience of up to 500,000 visitors.
It will also showcase world-leading British products including Harris Tweed and Genes in Space, a mobile game designed in a partnership between Guerilla Tea and Cancer Research UK to help gamers process complex genetic data which can then be used to fight cancer.
V&A Dundee is representing the UK at the XXI Triennale di Milano with the support of the British Council and the Scottish Government.
The international showcase is part of the Scottish Government's Year of Innovation, Architecture and Design 2016.
Scottish Government culture secretary Fiona Hyslop said: "I am delighted that Scotland will be represented at the Milan Triennale and V&A Dundee provides the perfect opportunity to showcase Scotland's creativity.
"Our country has a rich and dynamic creative talent and this year we celebrate this and present it to the world as part of Scotland's Year of Innovation, Architecture and Design."
Philip Long, director of V&A Dundee, said: "The UK is a globally important nation of design, both historically and today. Adventures in Design explores this story, demonstrating the way we are leading the way in bright ideas that can transform lives.
"We are delighted to be given the opportunity to represent the UK at this leading international celebration of design and would like to thank the British Council and the Scottish Government for their support in this."
Lorna Macaulay, chief executive of the Harris Tweed Authority, said: "Harris Tweed is an iconic fabric that has soared to global popularity in recent years, being exported to over 60 countries and seeing production of the unique and legally protected hand-woven material reach 1.7 million metres last year.
"We're proud to be working with V&A Dundee, an internationally significant project that will shine a light on Scotland's rich history of design innovation and inspiration and inspire countless new designers to embrace their heritage in new, exciting and surprising ways."
Guerilla Tea chief creative officer Matt Zanetti added: "We're absolutely thrilled that our work will go on show at the Milan Design Triennale, and represent the power of game design to make a difference to people's lives by solving serious problems such as processing genetic data in a fun, entertaining way.
"I'm particularly delighted that we're working with V&A Dundee on this project, as visiting the Milan Design Triennale as an undergraduate student many years ago was a huge inspiration for me. To be part of the official UK exhibition, there to inspire many thousands of other people, is mind-blowing."
The new £80 million museum is the first in the UK to be designed by Kengo Kuma, the renowned architect responsible for the Tokyo 2020 Olympic stadium.
It will open in 2018.