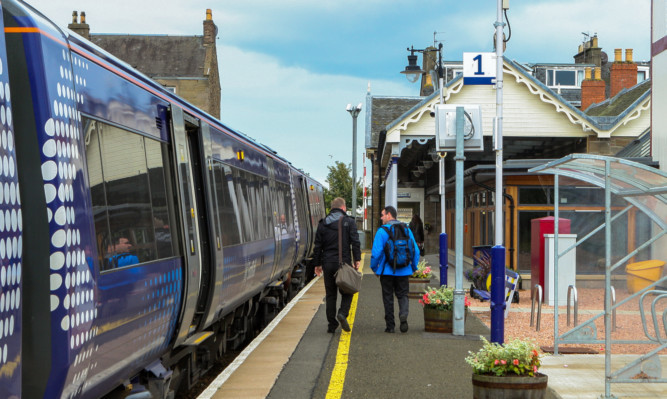 A Labour councillor said the Transport Minister is "guilty of exaggeration" in calling the new services to Broughty Ferry a "rail revolution".
Laurie Bidwell welcomed news of an hourly service to the Ferry station starting in 2018, but said describing the impact of using "redundant" diesel trains as a revolution was an "exaggeration".
Mr Bidwell said: the increase in services to the town was a "positive development" and the station had the largest percentage increase in the region.
He said: "I welcome the announcement of an hourly train service from Broughty Ferry beginning in 2018/19.
"As stopping services in Broughty Ferry have previously increased, the travelling public has made good use of these trains.
"In fact, Broughty Ferry station has recorded the largest percentage increase in passengers of any station in the region.
"This is a positive development which I and many others have campaigned for, which will be good for residents, visitors and tourists.
"I would, however, like to point out that the Transport Minister is rather guilty of exaggeration when describing the impact of extending the life of 13 otherwise redundant three-carriage diesel trains as a 'rail revolution'. That might have been a more accurate description had he been announcing that lines north of Edinburgh and Glasgow were to be electrified."
Broughty Ferry Traders Association is "delighted", with was "delighted" with the news of the hourly service.
Spokesman Sandro Palladini said: "Broughty Ferry Traders Association is delighted to hear the news about the new hourly service to Broughty Ferry train station.
The recent positive publicity surrounding Broughty Ferry and the increase in visitor numbers suggested the train service would be used and lead to higher footfall for the town.
"It is hoped that the new train service will help to ease congestion and help alleviate some of the parking issues.
"Ultimately it is very good news for the town," he said.
SNP councillor Kevin Cordell said that the addition of the hourly service was good news for Broughty Ferry.
Mr Cordell said improvement of the train service was an ongoing process, and hoped it would increase the numbers of people visiting the town.
He said: "I use the services regularly and there are often people queued up on the Broughty Ferry platform waiting to get on the train.
"I hope that more people come to explore Broughty Ferry using the train in future."
The Scottish Government announced on Tuesday the introduction of 200 new rail services, providing 20,000 extra seats across Scotland, with Tayside and Fife set to feel the benefits.