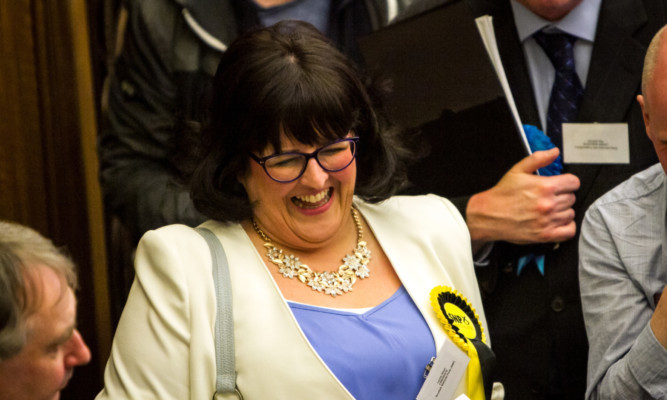 The voters of Maryfield have elected SNP candidate Lynne Short as their new councillor in a by-election called after the resignation of Craig Melville.
Shortly after she was named the winner on Thursday night, Councillor Short said that she hopes to "hit the ground running" and that she is looking forward to learning all that her role will involve.
She added that she had not taken anything for "granted" in the run up to the election announcement.
She said: "No matter which election you are involved in and who you are campaigning for, whether it is for another candidate or yourself, right until you hear who's won, you can't take anything for granted.
"Having been the candidate for Maryfield, I have a list of various items and I hope to hit the ground running.
"I won't know all the ins and outs and how I fit into it, however hopefully my background in property and travel and tourism will stand me in good stead.
"The SNP party have been incredibly supportive right the way through. I've been a party activist for a number of years and I have been encouraged and taken in by them. I've tried to learn various things I've been attending council meetings as a member of the public for the last couple of months.
Massive congratulations to @LynnesnpR – new @theSNP Councillor for Maryfield ward. Great result!

— Nicola Sturgeon (@NicolaSturgeon) April 1, 2016
"I am also a community councillor for the West End, so I guess that's something I'll have to move away from.
"It will be a major learning curve but learning gives me great enjoyment."
Council leader Ken Guild said the result is "proof" that the people of Dundee appreciate what the council has been doing.
He said: "I think it has been a tremendous result for the SNP tonight.
"We have had a very strong candidate and a very strong campaign and I think what we have seen tonight is the proof that the voters of Dundee appreciate what the SNP administration have been doing over the last few years to drive the city forward.
"I think that it all bodes very well for the future, both for the SNP and Dundee."
Asked whether he thought that the resignation of the former SNP councillor for Maryfield Craig Melville, and the circumstances in which his departure occurred, could have affected the SNP's chances, Mr Guild said that he had not heard mention of the issue from voters.
The Maryfield by-election was called after Mr Melville resigned after allegations he sent a series of racist text messages.
The alleged incident was said to have occurred last November in the aftermath of the terrorist atrocities in Paris, with Mr Melville resigning from his position on the council in February.