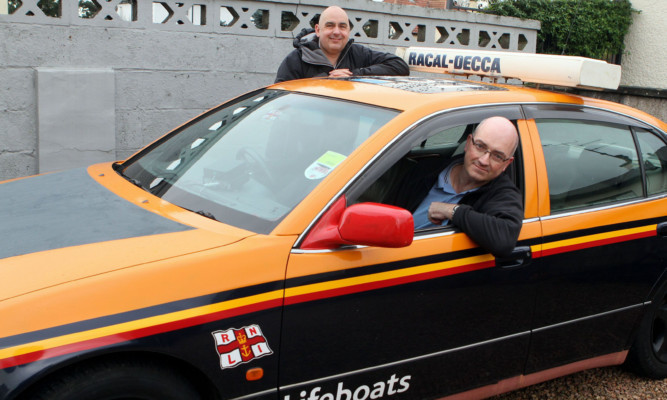 Members of the Broughty Ferry lifeboat crew are swapping the waters of the Tay estuary to drive 3,000 miles through France and Spain in a car worth just £400.
The trip which to celebrate the 50th birthdays of two of the three travellers is to enable them to take part in the Barcelona Bangers car rally from Calais to Barcelona in May.
Coxswain Murray Brown, volunteer mechanic Ewan Mayes, 36, and Murray's friend Dougie Bell have painted an elderly Lexus they bought into the colours of the RNLI and have named the car Broughty Ferry Lifeboat for the race.
As well as aiming for some fun, the threesome are raising funds for RNLI.
Murray said: "It's mine and Dougie's 50th birthdays this year and we wanted to do something different to celebrate.
"Ewan from the boat is coming too and we're going to do it as a bit of fun, but with the aim of raising money for the RNLI as well. We've paid our money so there's no going back now.
"We've painted the car in the Broughty Ferry lifeboat colours especially to take part in Barcelona Bangers.
"It's just a different way of raising money for the lifeboat and we'll have a great time as well we're all looking forward to it immensely."
Competitors will drive from Calais, down through northern France and on to the historical city of Tours before cruising down the Atlantic coastline to the glamorous seaside town of Biarritz.
Then it's across the border into Spain for the drive down the Costa Brava where they end up in the Catalonian capital of Barcelona.
Organisers compare it to a challenge on popular BBC TV programme, Top Gear. Those taking part can use a car worth no more than £400, themed with the competitors' own hands.
More than 60 cars join in every year, although given they're all bangers, many of them don't actually make it to the finishing line.
Murray added: "We're opening a JustGiving page, and if anyone or any business wants to put a sticker on the car and sponsor us they can get in touch with us through the Tay Pirates Facebook page.
"The car goes on the road on February 1 and it'll be seen around the streets of Dundee until we head off to Calais for the rally."
The team's JustGiving page is at www.justgiving.com/Tay-Pirates.