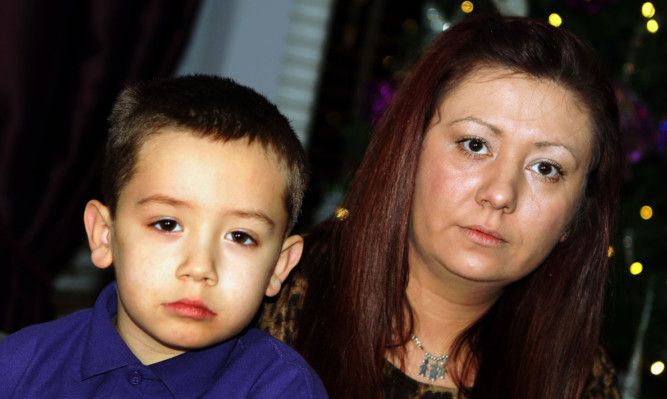 A severely autistic primary pupil faced missing his first day back at school today after Dundee City Council failed to organise transport for him.
Andrew Roadnight previously had his taxi cancelled after the driver abandoned the six-year-old outside the gates of Mill o' Mains Primary, when he is supposed to be handed directly to staff and not left unsupervised.
Since the beginning of December, Andrew has had to be taken to school by his father, who works offshore and is now back on the rigs.
The family were assured a new taxi would be in place for the start of the January term, but the tender was put out over the Christmas period and was not picked up.
His mother, Claire Roadnight, 35, says she has had enough.
She said: "They've let my son down twice now they aren't getting a third chance.
"He loves his school, and he's in such a state now I've told him he'll miss the first day. We won't be able to get through to him the rest of the day.
"This is the side the council doesn't see. It isn't just a taxi it's my son's education, my son's life."
After the tender failed to gather any bids over the festive break, the council informed Ms Roadnight it was her "parental responsibility" to ferry Andrew to school this morning.
She said: "There was a risk assessment that said he couldn't walk to school because he would be right along Clepington Road, I'd have the twins in the pram and I wouldn't be able to keep him under control.
"He could just run right out. That's why the council decided to get him a taxi.
"As it is, Andrew is going to miss the first day of school and probably the rest of the week."
Andrew is on the autism spectrum and has ADHD. He is recognised as severely disabled and can become extremely distressed by disruptions to his routine.
Ms Roadnight is frustrated with the council's bureaucracy.
She said: "We know a taxi driver who could have taken the contract my husband's cousin. But neither he nor we knew the tender had been put out over Christmas.
"I keep telling them to put it out and he'll accept it instantly. He knows Andrew, he knows how to deal with him and what is required, and I trust him.
"I'm sick of dealing with the people at the council because they don't seem to understand how this affects my son."
A Dundee City Council spokesman said: "The council is now looking at alternative ways of providing transport for this pupil and we have kept the family up to date with developments on a regular basis."