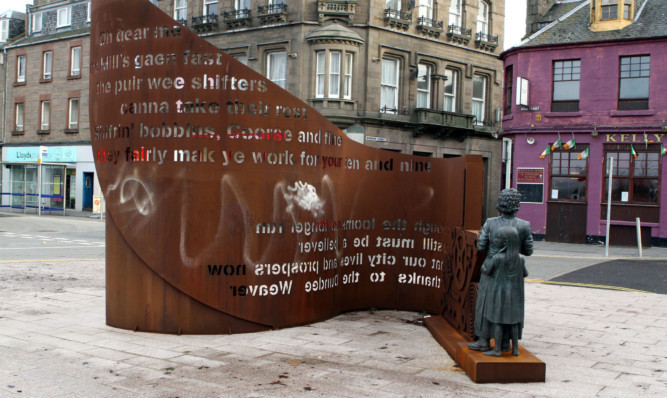 A statue tribute to Dundee's jute mill history has been vandalised only months after it was unveiled.
Vandals have sprayed parts of the Lochee sculpture with white paint.
The artwork on Lochee High Street was made to pay tribute to the city's women who worked in the mills and formed part of the area's redevelopment.
It was unveiled by Lord Provost Bob Duncan and a group of children from St Mary's Primary School in September last year.
The adult figure in the statue was modelled on Stella Carrington, who worked for nine years to have the monument installed.
She said: "I'm really disappointed that someone has vandalised the statue already.
"I'm sorry to say I'm not surprised it has happened, because vandals always want to target new things that have a lot of media attention, like this statue has."
Lochee councillor Tom Ferguson said he was "very angry" to hear the statue has been targeted.
He said: "It's the small things like this that bring down the quality of the High Street and it will not be tolerated."