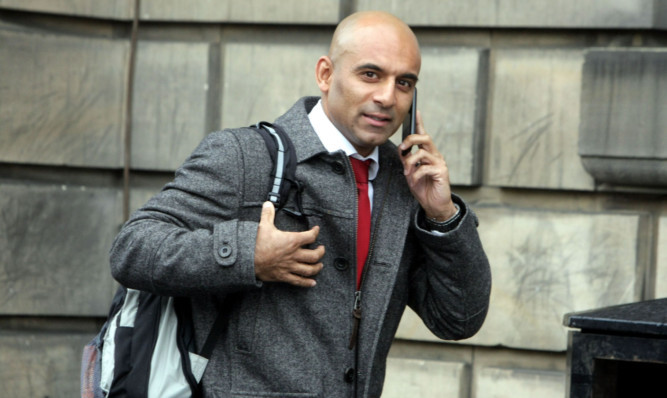 A Tayside businessman jailed for a £26 million VAT fraud has begun an appeal against his conviction.
Shahid Ramzan was sent to prison for nine years in January 2013 after being found guilty of carousel fraud and money laundering.
The former DJ, marketing consultant, music promoter and nightclub boss nicknamed Shy was convicted following a marathon trial at the High Court in Edinburgh of evading, either alone or with others, VAT payments of £5,611,839 between October 2002 and July 2004 and transferring or hiding criminal property worth £20,610,213.
During weeks of evidence, the trial heard that Ramzan, formerly of Cortachy Crescent in Broughty Ferry, used international trading as a front to dodge VAT rules.
Prosecutors claimed he used bogus Spanish companies, which were actually controlled from Dundee and Kilmarnock, to move dirty money out of the country.
The schemes involved setting up chains of complicated deals, and the overall loss to the government was estimated at more than £26m of VAT. One witness for the Crown was on the stand for nine days explaining the labyrinth of account details.
The trial was presented with more than 150 large lever-arch files after Ramzan was caught by HMRC's Operation Slayer.
Ramzan claimed he was an entrepreneur dealing in mobile phones, having started his business from his bedroom with only a phone, fax machine and computer.
He told the court of his bit-part in the Ken Loach film Ae Fond Kiss and claimed that the story, which focused on an Asian DJ's romance with a Catholic girl, was based on his life.
Upon conviction, Lord Brailsford told the businessman he had carried out "serious crimes of dishonesty".
Ramzan's appeal against his conviction and sentence got under way at the court of criminal appeal in Edinburgh and is expected to last for several days.
It is also understood that it is the Crown's intention to pursue him for more than £6.8m, a process which has been delayed because of the appeal matter.
Confiscation proceedings under the Proceeds of Crime Act were previously postponed to await the appeal outcome.