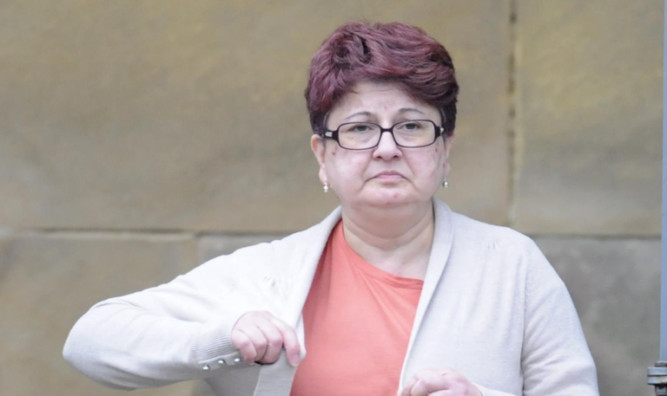 A woman who demanded thousands of pounds from her carer and threatened to falsely expose the pensioner as a paedophile has been jailed for a year.
The 49-year-old Dundee woman, originally from Sierra Leone, had pleaded guilty several months ago but the case had rumbled on for most of last year due to her being "uncooperative to say the least".
Sheriff Tom Hughes told Violet Shephard a custodial sentence was inevitable given the seriousness of her actions.
He told her the allegations she made could have had "catastrophic consequences" on the man if it had led to a prosecution and a conviction.
Dundee Sheriff Court heard previously that Shephard, of Balmoral Gardens, sent an email to the pensioner demanding £3,000 to £4,000 for her and a teenager to go on holiday.
She had pleaded guilty on indictment but had parted with her legal representatives on several occasions.
Her lawyer, Douglas Williams, previously told the court: "She has been uncooperative to say the least to the social work department.
"There is no doubt that English is her first language."
The court was told that Shephard had wrongly accused the pensioner of being a "pervert" and told him she would "take him to court and get his name in the papers" if he failed to meet her demands.
She added she could make the entirely baseless allegations "go away" if he handed over the money but instead he reported her to police.
Depute fiscal Nicola Gillespie told the court Shephard sent the man an email in April last year.
It said the teenager was accusing him of being a "pervert" and demanding an explanation.
The fiscal said: "He was perturbed and replied expressing his shock and upset.
"Two days later, he received a further email stating that she 'knew what happened'."
Mr Williams said Shephard was not a manipulative person as she did not have the "intellectual ability".
He added that a psychiatric report suggested she had a personality disorder and said that people who were "not quite the full shilling to some extent don't fall into the category of having a psychiatric illness".
He said she had suffered from depressive illness for 15 years after contracting post-natal depression and had been in and out of psychiatric assistance.
Sheriff Hughes told Shephard: "I would like to make the point that all the previous solicitors acting for you have acted entirely properly and their representations on your behalf were properly made.
"I take the view that this is a particularly wicked crime he was caring for you.
"When such allegations are made to the police and the courts they are taken very seriously indeed and what you have done in this case was make allegations with a view to obtaining financial gain.
"Had it led to prosecution and or a conviction it would have had catastrophic consequences for the person you accused had you got away with it.
"A custodial sentence is inevitable and what would have been 18 months I will restrict to 12 months, thanks to your solicitors for your early plea."