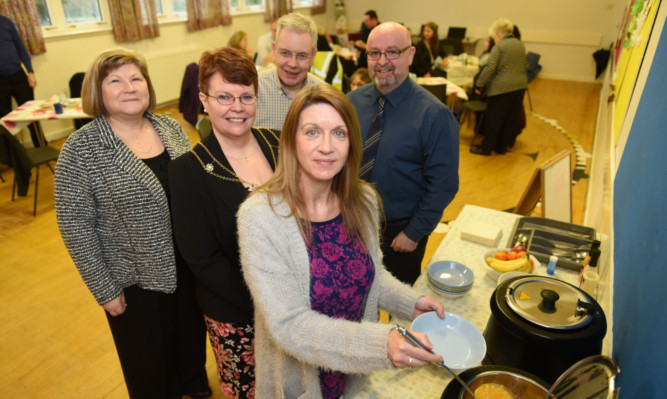 The rising tide of food poverty has led to the launch of a new community service offering sustenance to Dundonians in need.
The Lifegate Community Caf will provide simple free food to residents in the city's Whitfield area in a move to supplement the activities of the nearby new distribution point for Dundee Foodbank.
It was revealed this month that a great number of people rely upon food hand-outs in Dundee than in any other community in Scotland.
Figures released by the Trussell Trust revealed that 3,750 adults had sought emergency food parcels between April and December last year.
It is against the background of such figures that the caf has been launched at the Lifegate Church in Haddington Crescent.
Organisers believe there is a pressing need to provide some residents with easy access to food, given the increasing number of people on benefits and amidst widespread welfare cuts.
To that end, the caf will be open from 11am until 2pm every Friday, providing soup and toasties to those in need.
The new service will also become a space for advice agencies and volunteers have been trained to signpost people towards aid for issues like fuel poverty, benefit sanctions and addictions.
Dundee City Council will also be able to utilise the space for its latest "Digital on the Move" project, which aims to help those affected by welfare reform gain valuable IT skills.
Grant funding for the project has come from the local regeneration forum and the Big Lottery, while groceries are being donated by members of the community and by National Express staff.
Lifegate Pastor Geoff Findlay said he was delighted to see so many groups collaborating on the project including Whitfield Parish Church, the local community, city council and Faith in Community Dundee.
"With the high levels of people on benefits and many who have been sanctioned there is a need for access to free food at least once per week," he said.
National Express Dundee's Elsie Turbyne added: "We believe facilities like Lifegate Community Caf and the associated foodbank are absolutely crucial to people living in disadvantaged circumstances in Dundee and we are proud to support their work.
"We hope to continue to work alongside Lifegate Pastor Geoff Findlay and his team to help make it a successful and useful project for people in Whitfield and the surrounding area."