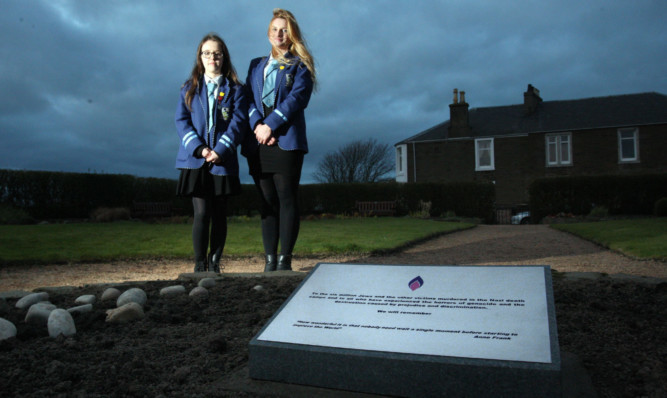 A lasting Dundee memorial to the victims of the Holocaust has been unveiled during a moving ceremony.
Civic leaders, pupils and members of the public stood side by side at the event in Windmill Gardens, Broughty Ferry.
Seventy seconds of silence were also observed to mark the 70th anniversary of the liberation of Auschwitz.
Rachel Lonie and Natalia Wojda, pupils from Grove Academy, led Tuesday's ceremony and said everyone has a duty "to make a stand against prejudice and discrimination."
The sixth years previously travelled to the former Nazi concentration camp in what is now Poland in September as part of the Lessons from Auschwitz programme.
They were so moved by what they saw that they decided to embark on a campaign to raise money for a memorial by organising bake sales and a raffle at the school.
Rachel told the gathering: "The word genocide did not disappear once these camps were liberated, nor did prejudice and discrimination.
"All are still present within our society today. Recent events within our world have shown that as we speak millions will be experiencing these horrible atrocities but it's never too late to make a stand.
"No action is insignificant.
"Keep the memory alive so that in 70 years time we will not ask: 'Where were we?'"
Seventy commissioned candles designed by Sir Anish Kapoor were distributed to 70 events across the UK, including Broughty Ferry.
Robyn Archibald lit the candle after fellow S2 pupils Meghan Wallace, Emily McBean, Cara Jolly and Tabitha Kobine read the poem A Dream.
It was written by Avraham Koplowicz and describes a freedom that he never attained. He was killed in the death camp aged 13 in 1944.
The ceremony concluded with a closing speech by Natalia.
Following the ceremony, everyone was asked to pick a stone and place it beside the memorial.
In Jewish tradition, the stone symbolises the permanence of memory and legacy.