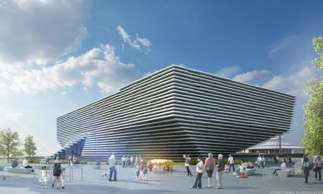 Dundee has become the first city in the UK to be named a UNESCO City of Design.
The prestigious award, which has previously been awarded to just 12 cities including Beijing, Berlin and Montral, is given after a city meets tough criteria set by the United Nations organisation.
Today Bilbao, Curitiba, Helsinki and Turin have also received the same honour.
Dundee's new title recognises the design innovations that it has contributed to the world, including aspirin, biomedical research that has led to hundreds of new cancer drugs, comics including The Beano and The Dandy, orange marmalade, and video games including Lemmings and Grand Theft Auto that redefined the global entertainment industry.
Scottish Government Secretary for Culture, Europe and External Affairs Fiona Hyslop said: "Warm congratulations must go to everyone who has played a part in bringing this prestigious UNESCO City of Design accolade to Dundee, and indeed Scotland.
"This is a richly deserved accolade and further strengthens the city's growing reputation as a hub of cultural and creative excellence and an international centre for the creative industries.
"Indeed, the Scottish Government has been delighted to award £15 million to the V&A Dundee project, which will create local jobs and contribute significantly to the regeneration of Dundee and its Waterfront, giving the city a world-class design museum and visitor attraction."
Councillor Ken Guild, leader of Dundee City Council, said: "This is tremendous news and shows truly international recognition for Dundee's innovative design sector.
"The city's profile will receive a huge boost and I am certain it will lead to many opportunities for Dundee. I look forward to seeing how we use this status to help take the city forward for the future."
Professor Nigel Seaton, principal of Abertay University, said: "Dundee is a bright, entrepreneurial city with a rich heritage of design innovation, and with ambitious plans rooted in design to regenerate the Waterfront and our communities.
"UNESCO City of Design status is a major recognition of everything Dundee has achieved, from life-saving biosciences innovations to the design of comics and games many created by Abertay graduates and of what we can achieve in the future."