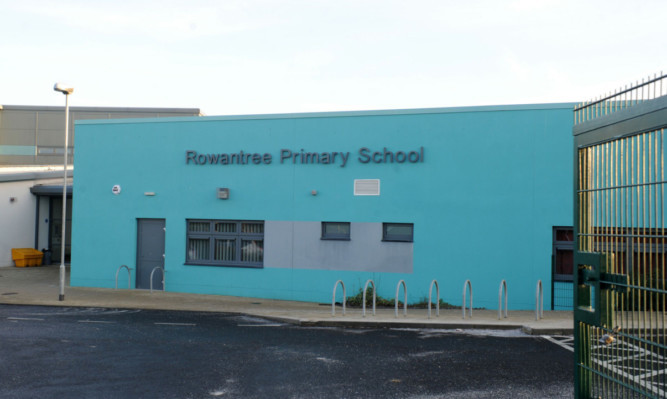 Dundee's teaching levels, already said to be at "crisis point", have been dealt a further blow with the confirmation that four teachers have left one primary school in the city to take up posts in other areas.
The four teachers, all from Rowantree Primary School in Linlathen, are said to have resigned as they feel "let down by management over the terrible behaviour of some of the pupils."
Fighting, bullying and threatening staff as well as other pupils are all examples of alleged bad behaviour, which culminated in a near riot in the assembly hall just before the Christmas break, a Courier source said.
The problems are so bad, the source added, the local minister has been called in to try to curb some of the worst pupils' behaviour.
According to the source, headteacher Emily O'Neill has been given little or no support from the city council's education department and she and other teachers can barely cope with staffing shortages and worsening behaviour of some pupils.
The situation has deteriorated to such an extent that the four teachers have left for jobs at schools in Angus.
Dundee City Council education convener Stewart Hunter expressed his disappointment at the claims, stating that the four teachers have all left for differing "personal reasons", including moving to other parts of Scotland.
He also said, he "can't accept any statement that the headteacher has had 'little or no support' from the education department."
Their departure adds to an already alarming crisis over teaching numbers in Dundee, with Labour's education spokesperson, Laurie Bidwell, stating last month that a "perfect storm" of factors had left Dundee's teaching staff levels at "crisis point".
Long-term sickness, pregnancies, a glut of retirements, hundreds of extra primary one children coming into schools and cuts in the salary levels of short-term supply teachers have all contributed to the "crisis", Mr Bidwell said.
He said many schools are unable to fill vacancies or supply cover for absent teachers, which was also confirmed by the local branch of the teaching union EIS, which said it is a major problem in the city, with available working teachers having to endure the "extra stresses" of covering for vacancies or missing colleagues.
One primary school in the north of the city was missing seven permanent teachers and the latest departures are adding to a growing headache for the education department. Mr Bidwell said the goodwill of those teachers having to fill the gaps is "wearing thin".
While Dundee City Council acknowledged there is an ongoing recruitment drive, it refused to say how many teachers it is currently short of.
Mr Hunter said: "Having spoken with the director, I am disappointed at the claims being made, as they do not state the correct facts.
"The staff are leaving for a variety of personal reasons, including moving away to other parts of Scotland.
"I have been in the school several times and have always been impressed by the dedication of the headteacher, leadership team and staff in the school to providing high-quality educational experiences for all pupils at all times.
"I have seen how closely they work with parents and they are always available to discuss individual concerns as they arise.
"The education department works very closely with all schools in the city and I cannot accept any statement that the headteacher has had 'little or no support'. My experience is that the education department are always willing and available to offer support if and when a school needs it.
"I have every confidence in the leadership team and the teaching staff of Rowantree Primary School and wish the teachers who are leaving every success in their new posts.
"The current situation in Dundee is no different than the rest of the country. It is difficult to fill all vacancies but we continue to do everything possible to ensure that the staffing levels in our schools are maintained. This is a priority for us and will continue to be so."