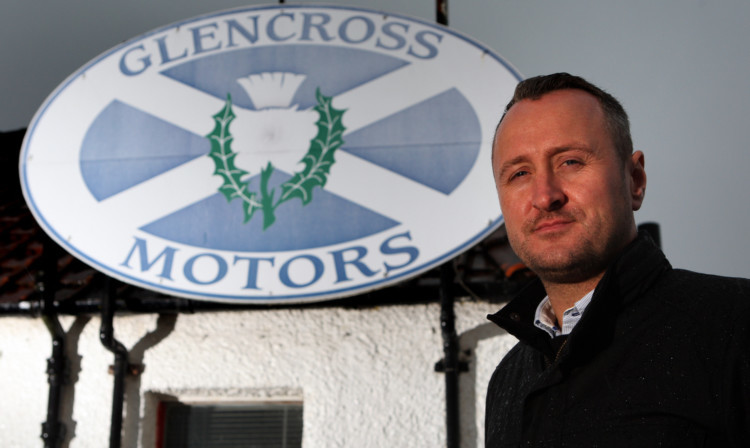 An under-investigation second-hand car dealer has slammed "heavy handed" police who raided his business.
Charles Sandeman, owner of Glencross Motors, had his home and business raided by dozens of officers.
Three weeks after the raid and a multi-agency probe, police have failed to bring any charges against Mr Sandeman, who claims the incident could have wrecked his business.
He has now had his trading licence restored by city councillors.
Speaking about the incident for the first time, Mr Sandeman told The Courier: "The police have been very heavy handed in it all and have really damaged my business.
"We had to close our doors and my staff have been out of work.
"Out of 106 cars only six of them had issues one of them was a tyre thickness problem where it was 0.07mm out. You can't see that.
"But the police will do what they have to do and I will do what I have to do. It has been three and a half weeks and as of yet, I haven't even spoken to any police at all.
"I was supposed to meet them on Monday but they cancelled the meeting because they had more important things to do. I've been totally left in the dark."
On Thursday the city council's licensing committee restored Mr Sandeman's trading licence in a behind closed doors meeting, having initially revoked it.
Mr Sandeman, who has owned Glencross Motors since 2007 and held a second-hand car dealer's licence for 14 years, said he hopes the ruling will allow him to put the whole incident behind him.
"I just want to move on now," he said.
"I have got my licence back and all I want to do is get back to work."
Glencross Motors was raided on Wednesday June 4 by agents from the Vehicle and Operator Services Agency (VOSA), Trading Standards, Scottish Environment Protection Agency (Sepa) and the police.
His solicitor, Kris Gilmartin, has said Mr Sandeman immediately made himself available to all the agencies involved in order to deal with any issues arising from the raid which might affect his licence.
Nevertheless, Mr Gilmartin said his client was only informed his licence had been suspended by letter after the fact a suspension that "would have a huge effect not only on the business but also on his employees, who all have children to support".
Mr Gilmartin added: "To date, Mr Sandeman has not been charged with a single offence arising from the investigation. He has not been informed by any of the agencies who attended at the premises save for VOSA why they were there, what they found nor what remedial action he should take."
A spokeswoman for Police Scotland said: "This is an ongoing inquiry with partner agencies involving DVLA, Trading Standards and VOSA and it would be inappropriate to comment further at this stage."
Additional reporting by Graeme Ogston