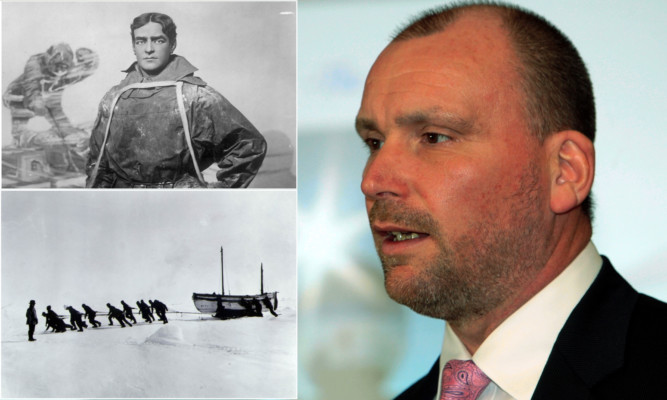 The Dundee member of a major expedition to carry out Sir Ernest Shackleton's unfinished business of trekking across the Antarctic has spoken of his sadness at the cancellation of the epic adventure.
Former Morgan Academy pupil Stewart Stirling said it was very disappointing but inevitable that the mission to traverse 1,800 miles of the frozen continent from the Weddell Sea to the Ross Sea via the South Pole had to be called off.
The withdrawal of a further team member meant the original party of five in the Imperial Trans-Antarctic Centenary Expedition of 2014 was reduced to three.
"Such a small team making a successful mission over such difficult territory in sub-zero temperatures would have to overcome major safety issues," said the former Metropolitan Police officer.
"We would have had to take only one set of kit instead of two, and if anything went wrong with our equipment we would have had no replacement which would have made the expedition extremely risky.
"We also still had some significant fundraising to do and recently found out about a rival expedition which would have been competition for our efforts.
"Some of us had devoted up to three years of our life to make our mission happen and it was very disappointing to have to call it off, but it was unavoidable."
It was a blow that Stewart felt personally because he realised that his lifelong ambition to explore the Antarctic would probably be unfulfilled.
"I am 50 now and by the time anything like this happens again I would probably be in my mid-50s, and that may be too late for me," he admitted.
Stewart and his two colleagues are now returning the funds their mission received from sponsors or, at their request, arranging for it and equipment to go to other projects.
He added: "People have been very understanding and sorry for us that our expedition had to be cancelled."
Last year Stewart addressed Dundee Rotary Club on the quest to retrace the steps of Sir Ernest Shackleton and his men from their Imperial Trans-Antarctic Expedition of 1914-17.
Sir James Caird, the Dundee jute magnate and benefactor whose legacy lives on through the Caird Hall and Caird Park, part-funded the Shackleton expedition.
In another Dundee connection, the boat that rescued the stricken party after their ship, Endurance, was trapped by ice was the James Caird.
The centenary trek was scheduled to begin in October and last up to 100 days in the Austral summer when daylight in the Antarctic lasts 24 hours.
It was to carry out scientific research, celebrate the achievements of polar explorers, promote leadership and inspire the younger generation.