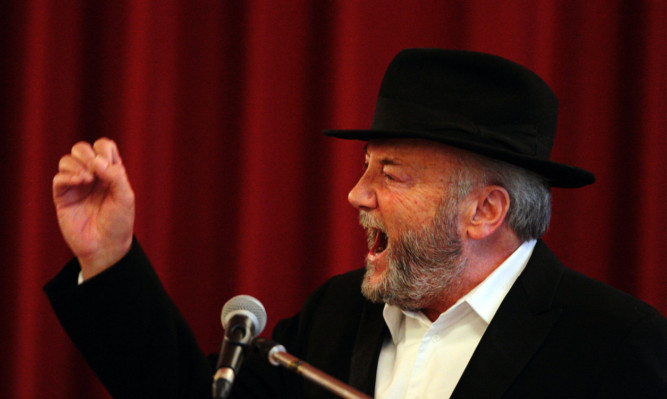 MP George Galloway has blasted "Reds in Kilts" who believe a Yes vote in the independence referendum would rid Scotland of the Conservative Party forever.
The Dundee-born politician warned a fiery meeting in his hometown on Tuesday night that Scotland would become a country of "grudge and false division" if voters rejected staying within the Union on September 18.
The Respect Party MP for Bradford West, who appeared alongside other Labour movement members at the Marryat Hall as part of his 'Just Say Naw' tour, said "the biggest myth" in the independence debate was that voting Yes would end Tory influence in Scotland.
Mr Galloway said: "There are those who were just a few years ago Trotskyist Inter-nationalists who damned all talk of petit-bourgeouis nationalism, but have now metamorphosed into Reds in kilts who argue that we've got to vote Yes to get rid of the Tories. That's the very last thing in the world you'll achieve by voting Yes.
"If you take all the Scottish MPs out of Westminster who are non-Tories, you're giving the Tories 49 MPs of a start in all future general elections.
"Do you think for one minute they're going to allow you to use their money toset up some kind of socialist country in Scotland? It's perfectly absurd."
Recalling his early political career, Mr Galloway said: "Dundee has always been an outward-looking city, not an inward-looking one.
"So when Alex Salmond says Dundee is a Yes city, I hope he's wrong, because that would represent a turning away from the world, a turning away of the rest of the country into insularity and on the road to a politics of grudge and false division."
On the Scottish Government's proposal for a currency union with the rest of the UK if there is a Yes vote, Mr Galloway said: "Divorce is a really messy business.
"The one thing you'll never be allowed to do is to continue to use the joint credit card and that's what Alex Salmond's Plan Arepresents."
Last night's panel was chaired by Jim McGovern, MP for Dundee West, and also featured councillor Lesley Brennan and Richard Leonard, political officer for GMB Scotland.
Ms Brennan said campaigning for a No vote in the city had given the opportunity to "re-engage with people".