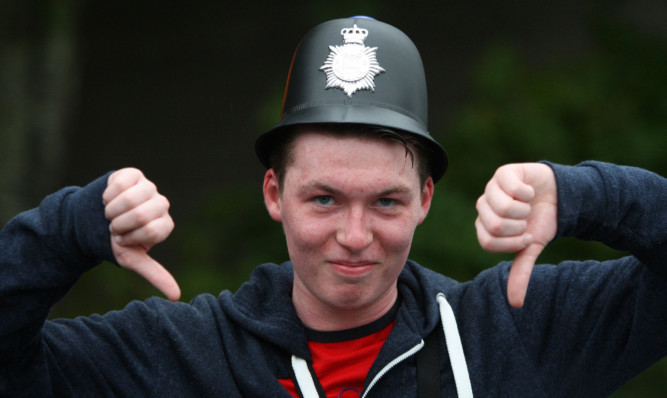 Almost half of Scotland's budding bobbies haven't been fit enough for the beat.
Police Scotland have revealed that 46% of applicants to join the service in its first full year failed to pass the fitness test.
Men up to the age of 29 have to be able to run 1.5 miles in 12 minutes and women in 14 minutes, or an equivalent "bleep" shuttle run test against the clock.
Up to the age of 45, men have to be able to run 1.5 miles in 13 minutes and women in 16 minutes.
Scottish Labour justice spokesman Graeme Pearson MSP said the failure figures showed that the recruitment process appears to be working well.
He believed, however, there may be a case for Scotland to follow England and introduce mandatory fitness tests on officers throughout their police careers.
He said: "If fire service personnel in Scotland have to undergo fitness tests to stay in their jobs, why is it any different for police officers? That is something I would like to know."
The Police Scotland fitness test varies according to age and gender.
In response to a Freedom of Information request from The Courier, Police Scotland reported that in 2013-14, the first full year of the national force, 1,322 initial fitness tests were completed by applicants.
A total of 606 applicants were rejected due to failure to meet the national standard.
In the subsequent probationary period only three officers failed further fitness tests necessary to become police officers and they chose to resign prior to dismissal.
There are no mandatory fitness tests on serving police officers in Scotland, unlike south of the border where they became compulsory on September 1.
Dundee-born Chief Inspector of Constabulary Tom Winsor proposed officers should be made to take a "bleep" test annually.
In a trial only 2% failed in more than 13,000 tests across 32 forces.
Rose Bartlett, recruitment standards policy manager at the College of Policing, said: "The results show that the vast majority of officers tested are fit."
Mr Pearson, former director general of the Scottish Crime and Drug Enforcement Agency, said: "If the public send for a police officer they have an expectation that the officer will be physically capable of responding to the call.
"This should be the case throughout their careers when you consider the range of equipment officers must now carry.
"I think mandatory tests are worth looking at, and I would like to know why we should not have them."Courier reporter takes police test and the result is criminalI have never really considered myself fit, or unfit, writes Mark Pirie.
Indeed I like to think that I walk (or jog, on a good day) a fine line between both, managing to stay distinctly average when it comes to physical activities.
So, when I took up the challenge to cover 1.5 miles in less than 12 minutes to meet the standards of a police physical test, I thought it wouldn't really be a problem.
I prepared in all the correct ways, as I sat on my couch tucking into a Pot Noodle and Googling 'how to run faster for longer'. I thought it would be easy.
However, the reality kicked in when I took my first few strides alongside Riverside Drive, and I felt those years of being a stranger to the gym come back to haunt me.
Not being an officer for Police Scotland (a job which regularly involves track running as part of the training process) I have never had to keep up a level of fitness.
That showed as, after a point, I had to walk.
Sudden bursts of enthusiasm did kick in as I checked my time.
However, my goals were slightly different from an officer whose focus would no doubt be on chasing someone who had broken the law.
In the end, my time was around 13 minutes, and I felt what with a bit more exercise and a lot less Google searching I could have taken on the challenge.
I should also mention than I have a new found respect for our brave boys (and girls) in blue…