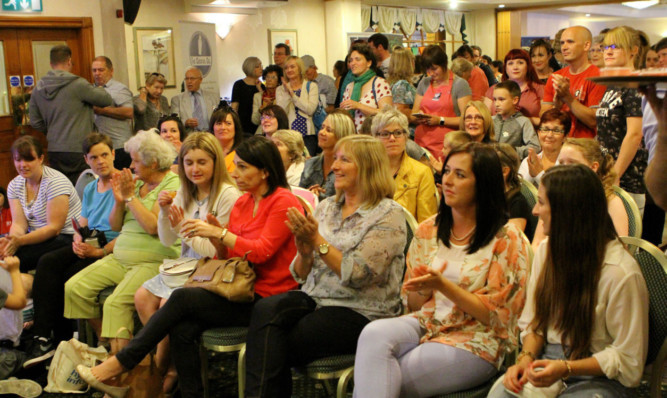 The first Ferry Food Fayre has been hailed a success by organisers despite a backlash of complaints on social media claiming it was a "free-cake stampede".
Jan McTaggart, spokeswoman for Broughty Ferry Traders Association, which organised the event, said they were "staggered" at the number of people who turned out, and added the vast majority of comments had been positive.
She said: "It was an incredible day. We had a very busy day at the Ferry Food Fayre at the Best Western Woodlands Hotel in Broughty Ferry with around 1,000 people taking the time to come along.
"To be honest, we were all quite staggered by the sheer numbers of people who came along to the hotel where the ballroom was pretty packed for the first couple of hours.
"The atmosphere was terrific and I know that several of the stall holders had to run out to replenish supplies.
"All the feedback so far indicates that we'll need to think bigger and even better if we're going to do it again."
However, some who tried to attend the event found it too crowded, including one woman who said her disabled husband "didn't even bother getting out of the car" because of the "mayhem".
Another woman said the behaviour of some of those who attended spoiled the event for her.
Posting on the group's community Facebook page, Susan Macintosh said: "I was almost elbowed out the way by people on the hunt for free food, almost to the point of 'let's see how much we can eat'.
"It was a tasting and demo fair not a free-for-all. My mum wanted to buy something at a stall but never made it there as it was virtually stampeded when the free cake came out."
She said staff at the hotel and traders had done well to handle the huge crowds.
Elsewhere, residents living nearby complained they were blocked in their own driveways by "inconsiderate parking".
The event was free and featured tastings, talks and demonstrations courtesy of some of the town's bakers, greengrocers, restaurateurs and publicans.
The Great Broughty Bake Off, one of the highlights of the event, attracted nearly 40 entrants in amateur, professional and junior categories.
Their creations were on display throughout the day and the winners picked up an array of specialist baking equipment.