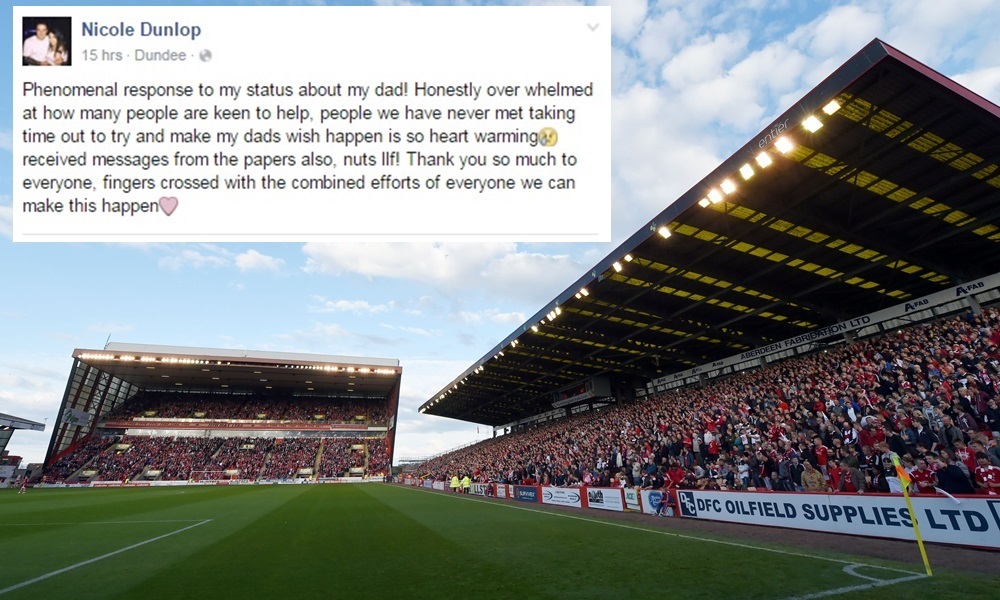 A Dundee woman's heartfelt campaign to grant her dad's dying wish to watch his beloved football club in style looks set to be granted.
Nicole Dunlop took to Facebook to urge her friends to help her Aberdeen-mad father take in a game at Pittodrie from the comfort of a private box.
The Abertay student said: "As most of you know my dad has terminal cancer and unfortunately only has a matter of months left.
"He's never been one to ask for much and when prompted to tell us what he would like before the worst happens he let us know that after being a loyal Aberdeen FC supporter since he was a child, that he would love to have a private box for one of their games.
"We have tried to contact them privately to see if this is possible but haven't had much luck. My hope is that the power of social media can get this message to them and give my dad one of his final wishes."
The plea has since been shared more than 1400 times and received 800 likes.
A spokesman for Aberdeen FC said: "We're well aware of the situation and are on the case."For more on this story, see Wednesday's Courier.