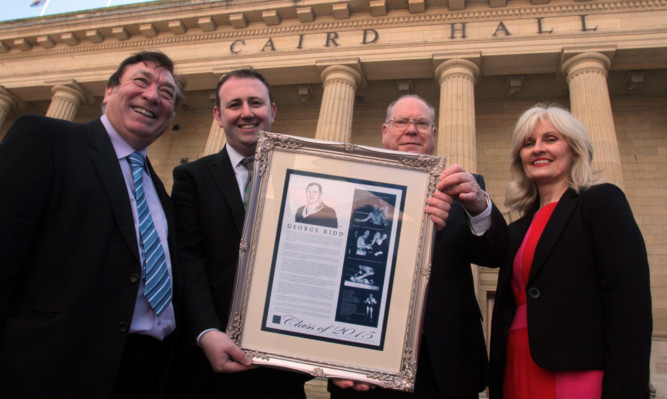 Iconic Dundee wrestler George Kidd has been honoured at the scene of some of his greatest victories.
George, a former lightweight champion of the world, died in 1998 but has now been immortalised after he was inducted into the newly created Scottish Wrestling Hall of Fame.
The sportsman became the first entrant to the club created by wrestling historian Bradley Craig and was remembered by his friend and former wrestler, Councillor Len Ironside.
As well as being entered into the hall of fame, a plaque detailing George's achievements will hang in pride of place in Caird Hall the venue where he made his name.
Mr Ironside said: "I got into wrestling by chance. I used to wrestle at Highland shows and was encouraged by George Kidd.
"Towards the end of his career I used to drive him to matches and that was a pleasure.
"I never wrestled with him, but he was quite unique.
"There were no gimmicks with George. You could watch him all night and not see the same move twice.
"He means something special to all of Scotland, but particularly to Dundee his home town.
"He used to love wrestling at the Caird Hall, which was his home venue.
"I think it's time we give recognition to a great Dundonian and a great Scotsman."
The plaque was specially designed by wrestling enthusiast and historian Bradley Craig.
Mr Craig felt compelled to mark the recent resurgence of British wrestling by creating a Scottish Hall of Fame for the sport.
And when it came to deciding on the first entry, he knew instantly.
Mr Craig said: "There was a real interest with the resurgence of popularity in wrestling to establish a hall of fame George Kidd was the number one choice to commence this. George's contribution to wrestling was felt on a global level.
"He invented so many holds and escapes that still have an influence which resonates today."
Dundee Lord Provost Bob Duncan said he was delighted to be part of honouring a man he calls "one of Dundee's favourite sons".
He added: "This is an important day for Dundee.
"George was one of Dundee's favourite sons and it's great to see him being honoured in this way.
"He was such a big attraction at that time and it was great for the city. He was always a real ambassador."
George Kidd became world lightweight champion in 1950 and went on to dominate the division for years.
He was made Dundee's "First Citizen" in 1965.