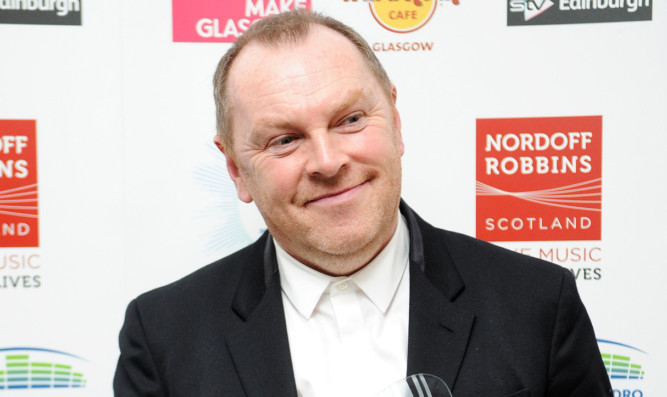 A galaxy of global stars has honoured a Dundee music icon.
PR guru Murray Chalmers represents some of the world's top music stars including Noel Gallagher, Kylie Minogue, Chris Martin, Paloma Faith, Muse and the Pet Shop Boys.
Many of them spoke of their admiration for him when he was honoured with the Music Business Award at the SSE Scottish Music Awards.
Now living in north-east Fife, the former Harris Academy pupil has stayed true to his roots and works as a Dundee ambassador to promote the city.
Despite a roster of superstars, the 56-year-old publicist said he was keen to sign some Dundee talent to his client list.
He said: "I would like to sign more Dundee artists. It would be nice."
He said a lot has changed since he broke into the music industry as a desperate young man living in a London squat in the 1980s.
"I was always playing music and someone said 'you should be a PR.' I didn't know what it was but I thought I'd give it a go.
"I was then taken on unpaid by the guy who signed the Rolling Stones, and eventually they gave me a job."
Murray Chalmers PR, which is based in London, also represents Lily Allen, Radiohead, Yoko Ono, Kate Bush and Robbie Williams.
Although he left Dundee three times, having first arrived at the age of five, he always came back.
His advice for anyone who has a genuine interest in breaking into the industry is to be "dogged" in ringing people up.
He said: "Just look around and be willing to offer your services to anyone you might be interested in working with."
Murray, whose parents are from Dundee, was born in Dunkeld.
He moved to London in 1978 and lived in a squat before finding work with a small PR company, with one of his first jobs seeing him try to persuade Mick Jagger to take part in a TV show.
He was then offered a job with EMI and within a few years was appointed head of press, a role he performed for 24 years.
Murray left to form his own company three-and-a-half years ago after EMI was taken over by Terra Firma.