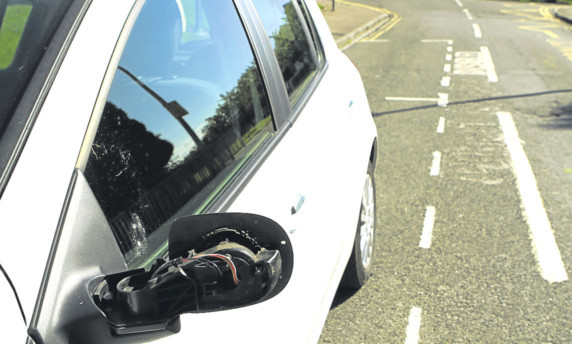 Furious car owners have slammed a gang of teenagers who vandalised vehicles in Dundee.
Locals reported witnessing up to 15 drunken vandals damaging a succession of cars in the Charleston area of Dundee.
In a separate incident, cars were also targeted in Carnoustie.
The vandalism is said to have begun after a group of rowdy teenagers descended on Charleston Drive before throwing traffic cones into car mirrors and tearing some off entirely.
The damage has left locals stunned and some fear their cars will be targeted next.
One driver, Richard Turnbull, 57, who has lived in the area for 10 years, said he considered himself lucky as he had parked his car around the corner from where the vandalism took place.
Claiming that this is the second time such an act has occurred outside his home, Mr Turnbull said: "There was a whole row of vehicles targeted on the main road. The police were out quite quickly. It was quite bad.
"This is the second time this has happened. Previously I saw a boy on a bike go down the road and just smash up mirrors.
"My car was parked round the corner, so I think I was lucky.
"There have been 10 to 15 boys and girls hanging about over the past couple of days but I'm not sure if they're involved."
Another local, who asked not to be named, claimed she phoned the police after witnessing a gang of drunken youths throwing traffic cones at cars and pulling their mirrors off.
She said: "I saw a girl throw something on the ground and it turned out to be a wing mirror.
"They were all drunk and continued down the street where I saw another person throw a cone into a car window.
"My car is parked at the back of my house, so it is usually fine, but it still makes you angry."
A Police Scotland spokesman confirmed officers were searching for the vandals and are keen to speak to anyone with any information.
He said: "Police Scotland is appealing for information after a number of vehicles were vandalised in the Dundee and Carnoustie areas of Tayside over the weekend.
"Vehicles parked in Etive Gardens, Charleston Drive, Spey Drive, Dickson Avenue and Orleans Place were the target for vandals in Dundee and a number of vehicles suffered damage to wing mirrors in Dalhousie Road, Carnoustie.
"Anyone with any information that may be useful should contact Police Scotland, Tayside Division on 101, or any police officer. Alternatively information can be passed anonymously via the charity Crimestoppers on 0800 555 111."