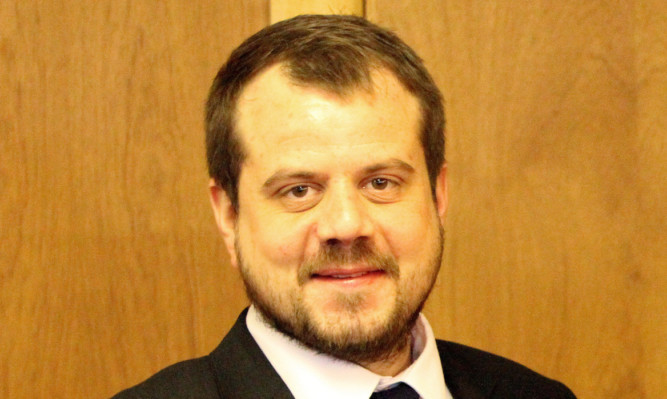 A Dundee councillor at the centre of a race-hate text row has resigned claiming the controversy is preventing him from carrying out his duties "to the best of my abilities".
Maryfield councillor Craig Melville issued a statement on Friday afternoon saying he was standing down as a councillor and convener of the environment committee. He is alleged to have sent anti-Islamic texts to a female colleague within the SNP following the Paris terror attacks in November.
The woman who allegedly received the messages expressed regret that he has quit his post.
The woman, who The Courier has chosen not to name, praised Mr Melville's contribution as a councillor.
She said: "There are investigations taking place, which must be allowed to be completed without unhelpful speculation.
"It is a shame that the media ran with the story before the investigation had been concluded and that Craig was put under such pressure that his only option was to resign.
"Craig was a good councillor, who made a positive impact in the Maryfield ward."
Opposition councillors said his resignation was long overdue but one former colleague described the situation as a "personal tragedy" for Mr Melville.
Mr Melville has not carried out any of his duties as a councillor since the allegations emerged last month.
He has been suspended by the SNP and from his job as an aide to Dundee East MP Stewart Hosie while a probe into the allegations is carried out.
His statement said: "It is with sadness that I have decided to resign my position as a councillor for the Maryfield ward of Dundee.
"The pressures of the recent deeply distressing allegations are having an adverse effect on the health of my family and I.
"Therefore I do not feel that I am currently able to fulfil my duties as councillor for the aforementioned ward and to continue as convener of the environment committee to the best of my abilities.
"I will not be making any further comment and would appreciate if the privacy of my friends and family, who are fully supporting me, may be respected."
Police are investigating the messages.
One text allegedly read: "It's not personal I just ******* hate your religion."
And it is claimed that another said: "And in your favour we live in an uneducated left lift loopy left wing society who is more interested in claiming benefits and being ignorant to the threat of your horrible disease which is a make believe **** in the sky. Horrible murdering Islamic *****."
West End Liberal Democrat councillor Fraser Macpherson said: "Given the circumstances, I'm not very surprised by Councillor Melville's decision."
Labour councillor Richard McCready said: "This should have taken place a long time ago and I believe the fact that it did not is a sign of weak leadership within the SNP group."
Labour group leader Councillor Kevin Keenan said: "The allegations were made by colleagues within his own party and I am sure they were made with clear understanding of what could follow.
"The decision to go appears to have been his but I am sure that the SNP will have looked for him to go and will have been putting pressure upon him to do so."
SNP councillor and fellow Maryfield representative Ken Lynn said he was sad to lose Mr Melville as a colleague.
He said: "The text messages are a matter for the police and not something I would wish to comment upon, but I can say that in all the time I have known him I have never heard him express any such sentiments."
A Dundee City Council spokesman said: "We can confirm that a letter of resignation from Mr Melville has been received by the chief executive."SNP retain control in cityCraig Melville's resignation will trigger a by-election in the Maryfield constituency but won't alter the balance of power on the city council.
A council spokesman said arrangements for the contest will be made "in due course".
The SNP had 16 of the city's 29 councillors before Mr Melville was suspended from the party last month but even with a reduced number of 15 they still have enough votes for a majority on any full council vote.
There are 10 Labour councillors, one Liberal Democrat councillor, one Tory and one independent.