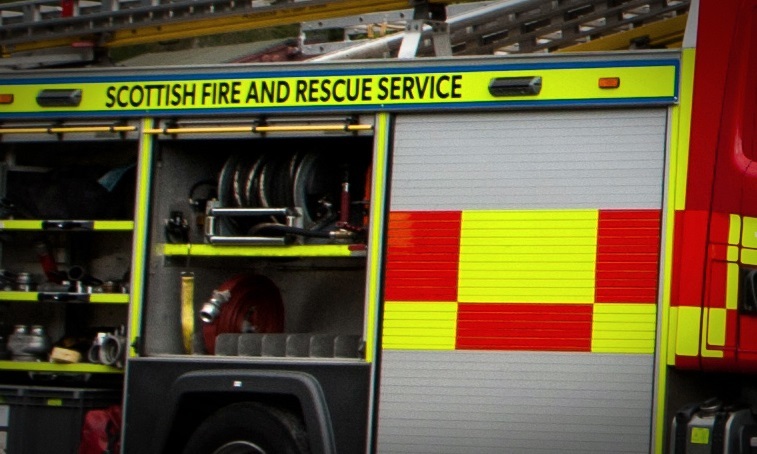 Children have been evacuated from classes at Grove Academy and the school closed after fire broke out in a science lab during morning lessons.
Smoke billowed from windows of the top-floor room shortly before 11am as emergency services rushed to the school.
Pupils were ushered outside as fire procedures were put into action, before being moved into the dining and assembly halls.
Scottish Fire and Rescue appliances were swiftly on the scene and crews found that staff had already begun to tackle the fire.
A spokesman said: "The fire had been partially extinguished by school staff but had to be fully put out by firefighters using CO2 extinguishers.
"They then ventilated the classroom and surrounding classrooms to clear residual smoke from the building.
https://twitter.com/pcallaghan63/status/672375317839900672
"Crews also cut away part of the ceiling to check for hotspots and the further spread of fire."
It's understood that the "small fire" began in electrical wiring in ceiling space above the second floor science lab.
A Dundee City Council spokesman said the decision had been taken to close the school this afternoon as "a precautionary measure".
"The school is working with the Scottish Fire and Rescue Service," he said."As a precautionary measure, Grove Academy will be closed this afternoon. Parents and families are being informed."
A Leisure and Culture Dundee spokesman said: "The facilities and public programmes at Grove Swim and Sports Centre are unaffected by the school closure and will operate as planned this evening from 5.30pm.
"Any further updates will be made via the Leisure and Sport Dundee Facebook page."
The school will be open as normal on Friday.