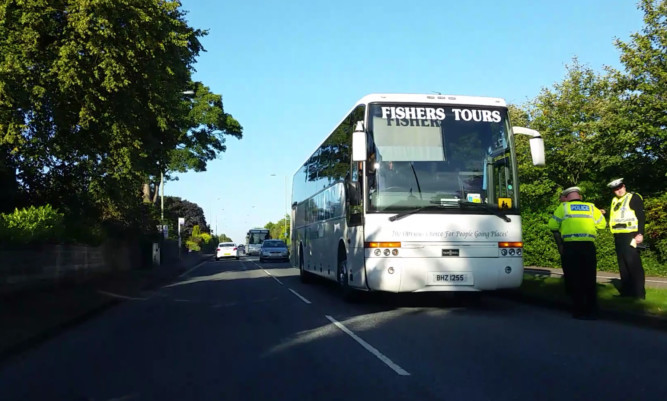 A Dundee coach driver was caught speeding near a primary school while his bus was carrying pupils, The Courier can reveal.
The driver was one of more than 100 motorists caught speeding near Tayside schools as part of a police crackdown at the start of the new term.
The 46-year-old driver of the Fishers Tours bus was caught speeding near Barnhill Primary School as he took pupils to Monifieth High.
A police statementy read: "Police Scotland can confirm that a 46-year-old man was issued with a Conditional Offer of Fixed Penalty in relation to a road traffic offence on 7 September 2015 at Balgillo Road, Broughty Ferry, Dundee."
A total of 129 motorists were caught speeding across Tayside during thetwo-week clampdown.
A further 20 people were reported to the courts for careless driving, four were caught using mobile phones at the wheel and 14 adults were clocked withouta seatbelt.
In addition, 16 verbal warnings were given to motorists parking dangerously or driving recklessly near schools.
The campaign involved themonitoring of drivers at pick-up and drop-off times at schools, as well as checks in various parts of the region.
Inspector Brian Poole, one of theofficers spearheading the campaign, said the crackdown is just part of the work police do to combat speeding.
He said: "These figures, from the Road Policing Unit, are just a snapshot of what we've been doing.
"Campaigns like this one will becarried out again throughout the year.
"It has been fairly successful ineducating people about the factors that increase the risk of a collision: speeding, using a mobile while driving, not wearing a seatbelt and various other things.
"This is what it's about educating people, rather than simply handingout tickets.
"The campaign was a two-pronged approach, with the first phase carried out outside schools and the second aimed at protecting vulnerable road users such as children and the elderly."
The checks were carried out in Dundee, Angus and Perthshire at the end of last month. Nine warnings were given to motorists behaving dangerously around schools in Dundee, five in Angus and two in Perthshire.
Mr Poole added: "The majority ofparents took note of our presence because they realise that this is done for the safety of their own children.
"It is so important that people drive safely not just during our campaigns, but all the time. There has been a fatalcollision recently and it's tragic events like this which keep us focused on our work and priorities."
A spokesman for Fishers Tours declined to comment when contactedby The Courier.