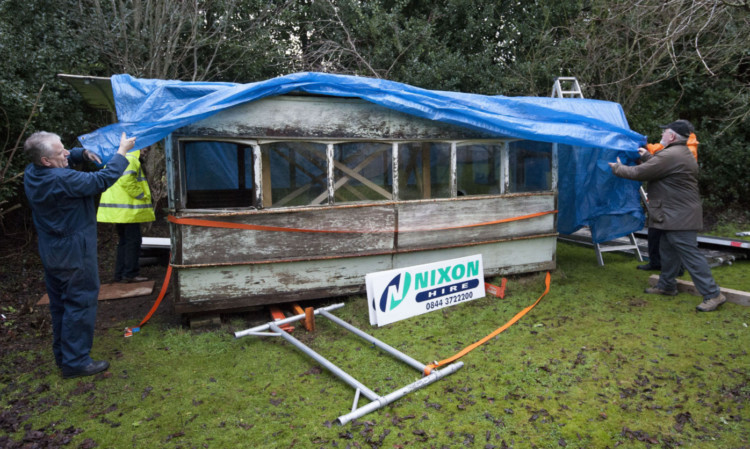 A special moment in Dundee's transport history took place on Saturday when the city's only surviving horse-drawn tramcar was returned to its home town after being discovered in a Perth garden.
The number 24 tram, which transported passengers between the High School and West Park Road, was being used as a summerhouse since it fell into the hands of a Perth businessman almost a century ago.
Its true identity was actually unearthed around 1970/1971 thanks to TheCourier but it has only now been returned to Dundee through the efforts of the Dundee Museum of Transport.
The story began after an article appeared in the Perth edition of The Courier about a former tramcar being used as a garden shed.
Transport expert Alan Brotchie, from Aberdour, went to inspect what was thought to be a Fair City tram anddiscovered markings underneath itspaintwork which revealed the Dundeeconnection.
However, the tram, which is still in remarkably good condition despite having lain untouched for so long, remained in the garden until the elderly householder, who declined to be identified, donated it to the Dundee Museum of Transport.
A major operation took place from early on Saturday morning to lift the carriage out of the garden by a small crane and on to a trailer so it could begin its 22-mile journey home to Dundee.
The crane was brought in courtesy of Dundee firm Nixon Plant Hire, which rolled up on 200 metres of plastic roadway to gain access to the carriage, which was surrounded by trees.
Dundee Museum of Transport's Jimmy MacDonnell said the group could not believe how well preserved the tram was.
He said: "We think this tram has been there for over 100 years. Officially it is 65 years that we definitely know of, but the lady has been aware of it all her life.
"It was discovered by Alan Brotchie, one of our most highly-respected members, and he went to see what he thought was actually a Perth tram in 1970 or '71.
"But Alan had an idea it might be from Dundee and when he scratched off some of the paintwork he was proved right. It said Dundee and tram 24.
"It was laid on sleepers so it's been off the ground and because of that it is very well preserved. How it's stood the test of time is amazing but that's been its saving grace.
"The tram was working in Dundee in 1897, we know that, and what is even more remarkable is that when we designed our logo a few years ago, coincidentally we used apicture of that very tram.
"It's a DC Thomson photograph too and I'm gobsmacked that it's the one we used for our logo and website.It used to start off from Dundee High School, go down Reform Street then turn right into High Street, going alongNethergate and into Perth Road right up to West Park Road, where the Harris Academy building is.
"It's a very historic thing in the transport world and it's a very important thing for the people of Dundee to have. As far as we are aware it's the first and last of its kind left in existence.
"We're obviously very thankful to the lady for allowing it to return to Dundee and, of course, to Nixon Plant Hire for getting it back to us."Courier article sparked curiosityAlan Brotchie, the man who discovered the tram's existence back in 1971, said its return to the city is hugely important.
"I think it's a very interesting link to Dundee's history. This goes right back to Victorian times when tramcars and especially electric trams were in their infancy," he said.
"This now means that we have a horse-drawn tram in Aberdeen,Glasgow, Edinburgh and now Dundee."
He added: "The spark was the story in the Perthedition of The Courier. It was thought to be a Perth tram, which was logical, but I arranged to go and see it because I didn't think it looked like a Perth tram.
"It had been owned by a Perth businessman called Jock Ness and with the owner's permission I removed some of the paintwork and found the Dundee livery underneath.
"It was actually one of the very last horse-drawn trams bought by Dundee Corporation as electric trams came in to Dundee in 1900.
"It only worked for about five years before it was taken out of commission, so it's been sitting in a garden a lot longer than it was actually working."
The return of the tram has attracted the interest of members of the National Museum of Transport in Derbyshireand some of theirmembers are planning a visit to Dundee to inspect it and advise on its restoration.A brief chapter in city's transport storyHorse-drawn trams began operating in Dundee around 1877, Alan said, and continued for around 25 years before being replaced by electrically-powered trams.
During their period in existence, they were supplemented by steam tramcars, which had been used primarily for the more hilly parts of the city.
"The wear and tear on the horses on the hilly streets was too much," said Mr Brotchie."So they used the little steam trams on these routes. Part of one of the steam trams is used as a cafe in the Murraygate just now.
"The corporation bought over the trams in 1898 and electric trams were introduced in 1900.Most of the trams, including this horse-drawn one, were made by Milnes of Birkenhead, although there was a local coachbuilder in Small's Wynd.
"I know this one was built by Milnes as it still had the maker's plate on it when I found it. They were state-of-the-art stuff when they were introduced over the town.
"There were many routes throughout the city and even one which went to Broughty Ferry andMonifieth, which was a privately-owned service.
"The last tram service in Dundee stopped in 1956."
Mr Brotchie's connection to Dundee came through him working in the construction industry during the 1960s, mainly at Dundee University.