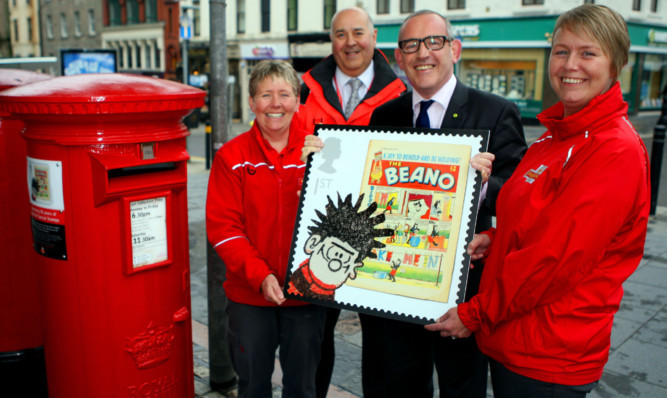 Comic favourites Dennis the Menace and Biffo the Bear both feature on a specially commissioned plaque unveiled on the post box in Dundee's City Square.
The duo were selected to represent the city as part of celebrations marking the 50th anniversary of the Royal Mail's special stamps programme.
Fifty special plaques are being installed on postboxes across the UK, with each featuring one of the most popular stamps released.
They have all been chosen for their special connection to the city, town or village in which they are located.
Britain's best loved comic characters featured on a set of Special Stamps issued in 2012, celebrating the 75-year history of classic British comics.
The Beano, featuring Dennis the Menace, published by Dundee's DC Thomson, has been entertaining children since July 1938.
Biffo the Bear began life as the cover star and one of his comic strips features on the plaque, but he shares the spotlight with Dennis, who eventually replaced him on the front.
Other stamps include Edinburgh Castle, Glasgow's Trams and Andy Murray winning Wimbledon, which will be affixed to a postbox in his proud hometown of Dunblane.
Golf is unsurprisingly celebrated in the stamp that will adorn a postbox in St Andrews, while Robert Burns and Sir Walter Scott will feature in Alloway, Ayr and at Abbotsford in the Borders respectively.
It's hoped they will attract attention and admiration from locals and tourists alike.
Dundee East MP Stewart Hosie was invited to unveil the Dundee plaque and said: "The Beano is such a big part of Scotland's cultural heritage and has its home here in Dundee, so it is great to see one of our city's achievements celebrated in this way."
The honour also delighted Beano editor Mike Stirling who added: "This stamp will give current readers of The Beano a peek in to the past of the comic, as well as stir up feelings of nostalgia in some of our older fans.
"It's great that the special stamps programme has recognised The Beano as a slice of British life.
"The Beano has entertained children of all ages since 1938 and we're proud that it continues to do so."
While the plaque will no doubt prove popular, the original stamp upon which it is based had the royal seal of approval.
Each and every one of the 2,663 special stamps issued by the Royal Mail since July 1965 has been approved by the Queen before it is issued. See comment on Page 26