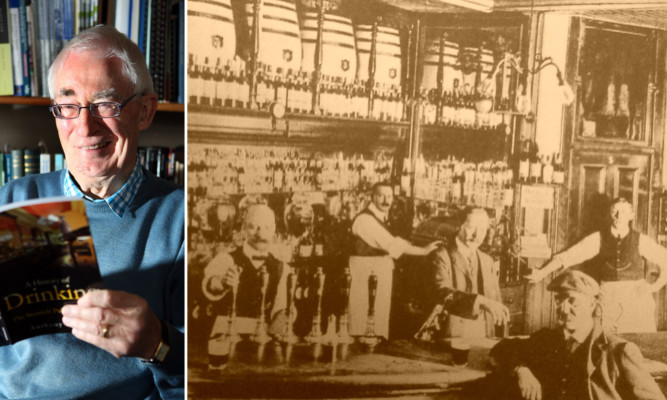 A former Dundee University lecturer who penned a book on the history of Scotland's love affair with alcohol has been nominated for a prestigious national award.
Tony Cooke, 72, taught history at the university for almost 40 years and his book, A History of Drinking, has been shortlisted for an award at the annual Saltire Literary Awards.
Mr Cooke, who has written two other books on Scottish history, has been nominated in the history section of the awards ceremony and will battle it out with five other authors.
He admits being shortlisted has left him elated. "I've written two books in the past but have never been nominated for an award. To be nominated towards the end of my career is rather good.
"I'll find out some time before the awards ceremony on November 26 if I have won, but just to know that someone has noticed my work is nice. To win, however, would be quite exceptional.
"Alcohol has played a huge part in Scottish culture and in Scottish history, yet there has been very little research carried out on the subject.
"Though there has been quite a lot of literature devoted to drinking, it was this lack of research that inspired me to write the book. That and the fact that I quite like a drink myself."
Mr Cooke's book compiles more than three centuries of facts and stories from Scottish drinking culture.
His work gives readers an insight into subjects like the Temperance movement, a group of campaigners who called for alcohol to be prohibited, and also shines a light on the history of some of the nation's best-loved pubs.
"Drinking covers a lot of subjects throughout Scottish history, including cultural subjects like entertainment and sport especially football," he added.
"A History of Drinking starts in the 1700s and covers around 315 years of Scottish drinking. The book has been very well reviewed so far, as believe people feel that research on the subject has been long overdue."
The Saltire Literary Awards are to be held on November 26 in Edinburgh's Central Hall. The winner of each category will receive £2,000 and be shortlisted for the Saltire Society Book of the Year Award.