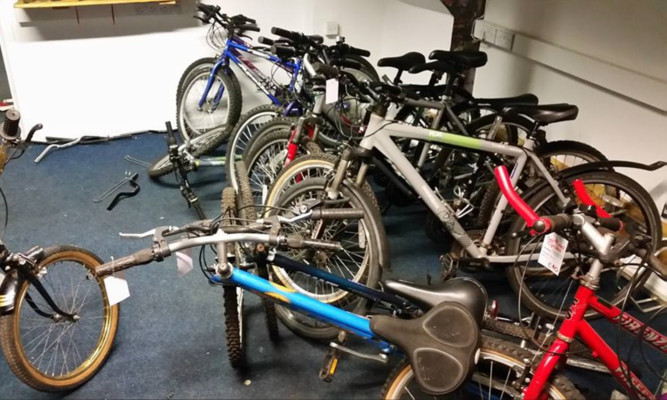 The owner of a Dundee bike shop has said he will miss out on important Christmas trade after thieves raided then trashed his shop.
Robert Webster, owner of Dundee Second Cycles, arrived at work on Friday morning to find thieves had smashed a window and broken into the West Henderson Wynd Shop.
They stole the shop's till, containing a float of £50, a television mounted on the wall and a yellow and black BMX.
But not satisfied with just stealing from the store, the raiders also kicked over a rack of bikes for sale, many of which will now need to be repaired before they can be sold.
Dundee Second Cycles was set up two years ago and sells refurbished bikes and cycling accessories.
Mr Webster said the break-in will disrupt Christmas trade – and his plans to spend time with his two young daughters over the festive period.
"I came in this morning as usual through the workshop at the back but when I got to the shop there was a light on. I never leave the light on so knew something had happened," he said.
"It was a classic housebreaking – everything had been thrown everywhere.
"They had forced open the window shutter and then smashed the window and climbed in.
"It looks like they have kicked over a bike rack or climbed across them and they'll all need taken back into the workshop and repaired.
"If I'm lucky that will take all weekend but otherwise it could be after Christmas."
He added: "I'm devastated. I've got two little girls and the plan was to spend time with them this weekend.
"The shop was going to be open and we usually do quite well before Christmas but we'll miss out now."
Mr Webster said the till was recovered just yards from the shop, having been smashed open and he hopes someone will have seen or heard something that could help catch the perpetrators.
"They switched on the lights and another switch which put on the card reader. That prints out when it was switched on so we know that happened at 12.27am.
"They were carrying a TV and had a yellow and black BMX so hopefully someone saw them."
A spokeswoman for Police Scotland said: "We are aware of the break-in and are carrying out enquiries."