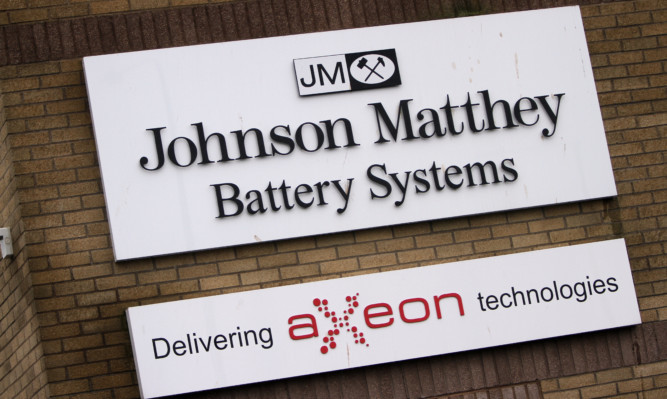 Dundee has been dealt another jobs blow after it emerged an electric battery company is to close its factory in the city with the loss of around 60 jobs.
Staff at Johnson Matthey BatterySystems (JMBS), which makes electric batteries for vehicles, were told that the company is relocating to the Midlands in a bid to tap into the area's automobile industry.
One worker also claimed the company said it is unable to attract the right"talent" in Dundee.
All workers at JMBS were placed on a notice of redundancy last month after Coventry-based parent group Johnson Matthey decided to cut spending.
Now staff have been told that thefactory formerly known as Axeon is likely to close by June although most jobs will be lost before then.
Initial redundancies will be decided by December 11. Seven staff are being retained to stockpile electric batteries for the McLaren P1 hypercar.
One worker, who asked not to be named, said: "We were told during the last consultation meeting.
"They (management) had up until then given the impression that they were prepared to listen to the employeerepresentatives' alternatives.
"However, it became clear during the meeting that they had not evenconsidered our proposals and then finally admitted that they will be moving from Dundee in the hope of attracting orders from the automotive industry in the Midlands.
"This despite the fact that the entire management team are already based in Coventry.
"We find this difficult to understand why this should make a difference when it will be the same people in charge.
"They feel that they cannot attract thetalent that they need while based inScotland and in particular Dundee."
He added: "The mood of the workers is obviously one of anger and betrayal considering we have been consistently told that JMBS had a 10-year plan for the Dundee facility."
Johnson Matthey bought Axeon in 2012 and said its new battery division would work on projects for major car manufacturers.
The parent company had not expected the Dundee operation to make a profit in the first few years because of the nature of its business.
A spokeswoman told The Courier in August the company was expecting the factory to break even this financial year.
However, the company revealed in October it was considering shutting the factory as part of a restructuringprogramme that would see it shed 200 jobs in total.
The company, the world's biggest manufacturer of metal catalysts used to control car emissions, operates in 30 countries but has said it wants to cut costs by around £30 million a year.
Earlier this month it said this would be achieved through restructuring and the loss of around 200 jobs.
A Johnson Matthey spokeswoman said: "The consultation in Dundee is ongoing and there will be a relocation element to it."