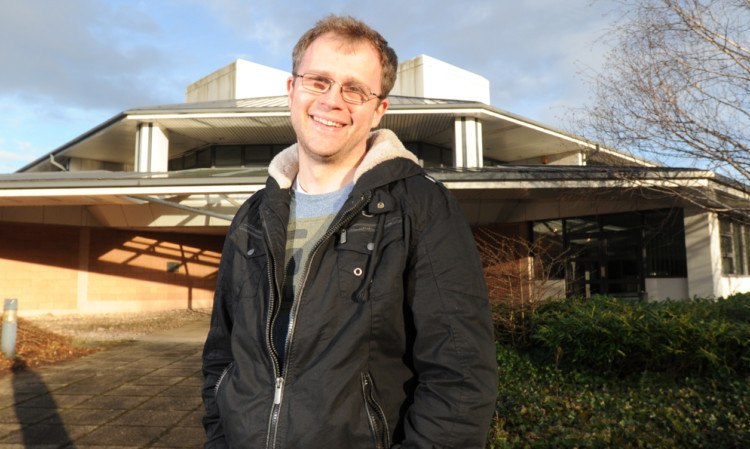 New life is being breathed into the former Aviva insurance office at Dundee's Technology Park as plans to transform it into a charity hub are under way.
Swan House has been lying empty since the company left in 2008, but now it is being reinvented to help good causes.
Working on behalf of Aviva Investors, which owns the building, Centric Community Projects is offering free workspaces for charities, non-profit organisations and community groups free of charge.
Dundee's Elim Church Charitable Trust was one of the first to sign a lease in November, and the group hopes to transform the south wing into a conference hall and youth facilities while using the kitchen and cafeteria as shared areas.
Pastor Gareth Sherwood, said the 55,000 sq ft building was a dream come true.
He said: "When we found out about this we jumped at the chance. It is an incredible place, but it has been a little neglected."
The 37-year-old pastor has spent the past few months getting the water back on, cleaning, vacuuming and making the building habitable again.
He said potentially around 15 to 20 different groups could use the building, and being together allows them to network.
He added although the church would want to use the south wing conference space on Sundays they were keen to make the area available to other groups during the week.
So far groups interested in sharing the building include homeless charities, youth groups and even a Zumba fitness group.
Centric Community Projects, the charity coordinating it all, said the office, which has two floors, four wings and an interior garden area, lends itself to admin, storage or training facilities, but is full of potential.
Rolling leases would be available for six months at a time, with 30 days notice required to quit by either the landlord or tenants.
A spokesman for Aviva Investors said: "We can confirm that we have agreed a temporary letting to Centric Community Projects and we are pleased to support the valuable work they do."
Anyone who might qualify and would like to find out more can contact Centric on 01908 667750 or email charlotte.russo@centricprojects.org to arrange a viewing.