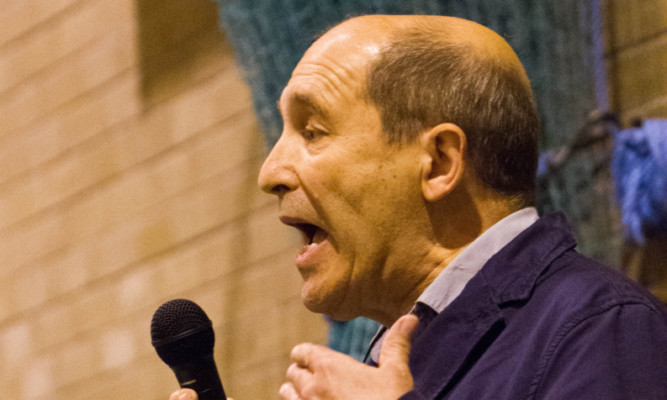 Broughty Ferry's integrity as a community should be at the forefront of objections to boundary changes, according to a Ferry councillor.
Laurie Bidwell believes that identity more than any other consideration is what matters to local people.
And he believes that should be enough to convince the Boundary Commission of Scotland to think again.
He is now urging residents to continue inundating the commission with their opinions ahead of the October 22 consultation deadline.
Adjustments to ward boundaries are designed to help reduce differences between the number of electors in each ward area in the city.
This is based on the principle that every elector's vote should have the same influence in an election.
The 300 or so residents who attended a public meeting organised by Broughty Ferry Community Council, however, made it clear they do not want to see changes take place.
The changes proposed for Broughty Ferry would transfer most residents living in West Ferry from The Ferry to the East End ward.
That is a response to the spread of the ward to the east where there has been a huge explosion in new housebuilding over a number of years.
Mr Bidwell believes that many concerns over the impact of the change will prove to be unfounded.
Nonetheless, he does believe the core reason given by residents at the public meeting that of the sense of community and identity that comes from being part of Broughty Ferry is hugely valid.
He said it should be enough to convince the commission to think again and he urged residents to continue to object.
"The boundary change proposal would not, however, lead to changes in residents' postcodes and addresses nor the boundaries for schools that their children can attend," Mr Bidwell said.
"Neither do I think that this would adversely affect house prices in West Ferry nor increase home insurance premiums.
"But I do concede that the proposals, as they stand, cut across the boundaries of Broughty Ferry as a whole and that many, if not most, residents living in West Ferry have a strongly felt sense of identity as part of Broughty Ferry.
"I think the strongest argument expressed at the community council meeting was that of people's sense of identity; of living in a place with defined boundaries and that embraces the Broughty Ferry that was taken over by Dundee just over 100 years ago.
"This more than anything else is what residents are of a mind to object to and I firmly believe that is an argument that will carry weight with the boundary commission.
"They see Broughty Ferry as a place with a distinct identity that is important to them and that this should override concerns over the rising population.
"The local planning partnership and community council also have close ties to electoral boundaries and people value the role these organisations play in their lives. They do not want to lose that.
"Nonetheless, I understand the concerns being expressed almost unanimously it seems by local residents.
"They should not stop at coming to a meeting.
"They must tell councillors and the community council about their concerns and they must also make their objections and opinions known.
"That can be done most easily online."
Comments on the commission's proposals should be submitted by Thursday October 22 by email to lgbcs@scottishboundaries.gov.uk or online at www.consultation.lgbc-scotland.gov.uk.
They can also be sent in writing to Local Government Boundary Commission for Scotland, Thistle House, 91 Haymarket Terrace, Edinburgh, EH12 5HD.