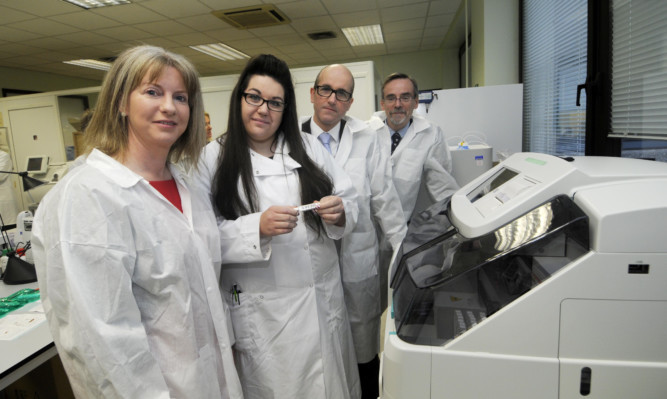 NHS Tayside is trialling a scheme to improve the detection of bowel cancer.
Patients who go to their GP with bowel symptoms and who may have underlying bowel cancer or serious bowel disease will be offered a new type of test.
Previously they would have been sent for a colonoscopy – an internal procedure involving a miniature camera – which for the majority will prove normal.
However, researchers at Ninewells Hospital and the University of Dundee completed a study using a Quantitative FIT (qFIT) test in more than 1,000 patients and found that it could accurately predict those who were extremely unlikely to have serious bowel disease.
It uses a faeces sample to test for blood content. If blood is undetectable, it could rule out the need for a colonoscopy for many patients, researchers said.
The new test will be available at all GP practices in NHS Tayside during the pilot, which was launched by Health Secretary Shona Robison.
She said: "The NHS in Scotland is committed to ensuring swift access to diagnostic testing and treatment for all patients in Scotland and we will watch this pilot with interest.
"Cancer services in Scotland have improved significantly over the past decade and increasing numbers of people are surviving cancer due to early detection and advances in medical treatment.
"Bowel cancer is Scotland's third most common cancer, but if we find it early enough there's more than a 90% chance of successful treatment. In fact, the five-year survival rate for bowel cancer has increased by 19.4% in men and 17.9% in women between 1987-91 and 2007-11, but we know more still needs to be done.
"This is why pilot schemes such as this one in NHS Tayside are so vital."
Charities have welcomed the pilot test, which will run until June next year and cost £35,000.
Mark Flannagan, chief executive of Beating Bowel Cancer, said: "We welcome anything that speeds up the early detection of bowel cancer. If this pilot proves successful, we could more accurately predict which patients with symptoms need further investigation.
"Whilst this test is being piloted across the NHS Tayside area, it is still important to remember that if you receive the existing bowel screening test through the post that you complete it, even if you're fit and healthy, as it could save your life."