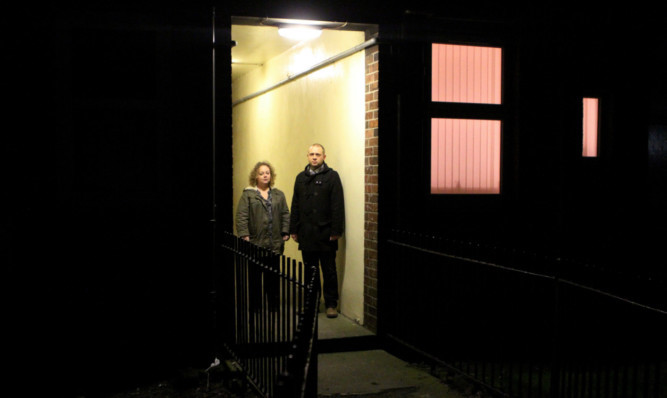 The safety of Broughty Ferry residents was put at risk as council departments wrangled over who was responsible for street light repairs, a councillor has claimed.
Bowman's Lane is one of the community's most historic and unique streets and lies at its heart, linking the shopping area of Brook Street to residential Long Lane.
For some time, however, the lights at the Long Lane end have been out and it has been unclear which council department is responsible for their maintenance and repair.
In the meantime, residents have been left concerned for their safety and have found the lane increasingly difficult to negotiate, with the winter weather making for hazardous conditions underfoot in the dark.
At least one Ferry resident is said to have suffered an injury as a result of the poor lighting and that led Broughty Ferry SNP councillor Kevin Cordell to seek an urgent resolution to the increasingly long running issue.
Dundee City Council has now said it will take action to repair the lights and Mr Cordell said he hopes to see that pledge met without delay.
He told The Courier: "I was contacted by a constituent whose home is accessed via Bowman's Lane.
"At this time of year it is extremely dark and underfoot conditions can be slippery and wet and may present a potential safety issue.
"Indeed, only recently a local resident slipped on a broken bottle discarded in the darkened alley.
"However, my conversations with both City Development (who are responsible for much of the city's lighting) and Housing (who have properties in Long Lane) drew a blank as to who installed the lights and who was responsible for repair and maintenance.
"I'm obviously pleased that the council is now going to repair the lighting at Bowmans' Lane. I have had that confirmed.
"This is a well-used and unique piece of Ferry history and we have to make sure that it is safe and fit for purpose."
Bowman's Lane, known locally as Dummies Close was named after a local newspaper reporter Alex Bowman who, in the 1870s, opened a newsagent, print works and stationers nearby.