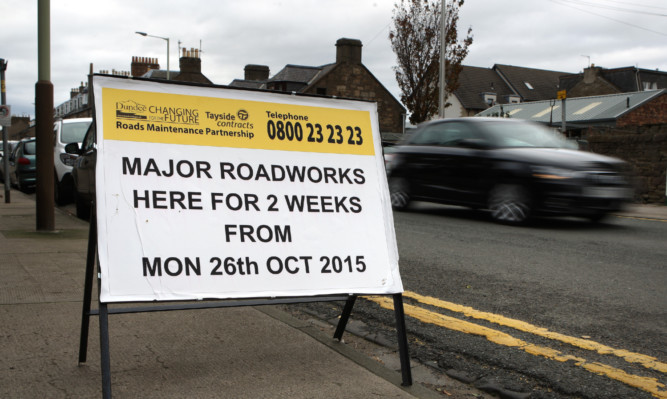 A shop owner fears he will lose hundreds of pounds a day during a fortnight of roadworks.
Parts of King Street in Broughty Ferry will be closed during the two-week resurfacing works, which start on Monday.
Muhammad Chaudhary, the owner of A&K Newsagents, which is on the junction with Lawrence Street, finds his business slap bang in the middle of the works area and believes he will suffer more than most.
He predicts losing half of his income at the shop because of a catastrophic loss of passing trade which could amount to thousands of pounds over the fortnight.
Mr Chaudhary said: "I am very worried about how this is going to affect me.
"Two weeks will be very difficult. They tell me they are doing it in two phases. Everyone else has it for a week and I have it for two weeks.
"Nobody will be going past our shop. We rely on passing trade and we could lose half of what we normally get."
James Anderson, the owner of A1 Second Hand Store on King Street, which will mainly be affected during phase one, said: "No doubt we will lose a fair bit of trade, but what else can be done? The road has to be resurfaced."
Dundee City Council says King Street will be closed in phases between Westfield Road to Fort Street for carriageway resurfacing.
All vehicle traffic will be banned from King Street between Westfield Road and Lawrence Street for the first phase and then Lawrence Street to Fort Street during the second phase.
A council spokeswoman said a diversion will be in place during the works.
She added: "The project is being carried out in two phases to minimise potential loss of business.
"The decision was taken to carry out the work now, before the Christmas rush.
"Pedestrian access is being maintained at all times and letters were sent out to traders to tell them about the work."
In separate works in Broughty Ferry there will be temporary traffic lights next week for gas main renewal on Strathmore Street.