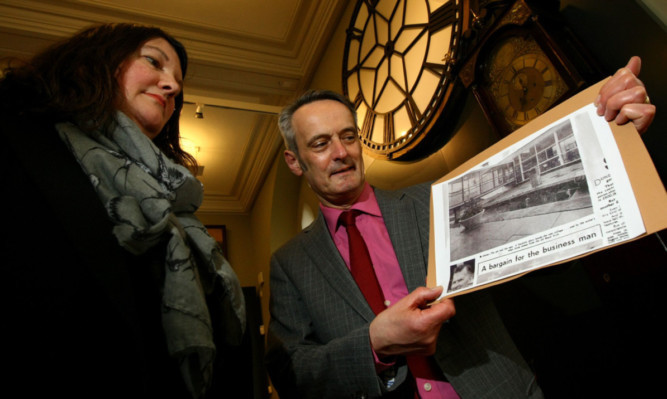 The presence of huge chunks of Dundee's once iconic Royal Arch within the grounds of D&A College is now being explored by some of the city's leading local history experts.
A team from The McManus Dundee's art gallery and museum plan to visit to photograph and record the stones.
They discovered an article in the museum's archives, dating back to 1964, which shows the stones in situ at the newly-opened college's Kingsway campus.
Curator of early history Christina Donald believes the article verifies links between the college and the maligned structure, which was demolished that same year.
"Back in 2010 when we were doing research for the redevelopment of the museum, I came across the People's Journal article while looking for something else," she said.
"As we have the clock from the Royal Arch in the museum's collections, I filed it away for future reference.
"When I saw the photo of the stones at the college in The Courier, I forwarded on the article so that they could confirm that their finds were indeed the stones from the Royal Arch."
As well as contacting D&A College with her find, Christina is keen to get in touch with the city archivist to see if there is any more information about the Royal Arch stones.
The curator is also eager to have museum staff visit the Kingsway Campus to photograph and record the carved stones.
According to college legend, three pieces of Royal Arch stonework have been around the campus since the 1960s.
One has now been moved to the Children's Hospice Association Scotland's Robin House, in Balloch, where college staff and students recreated an award-winning show garden.
The most easily-identified piece is by the science block while a third piece is shrouded in mystery as only the top is visible the rest being buried in the ground in the former caretaker's cottage at the campus entrance.
Anyone who may be able to shed further light on the stones should contact Christina at the McManus.
An online petition to have the Royal Arch replicated and reinstated was opened two weeks ago.
Nearly 1,300 people have since signed the petition which as a target of 20,000.