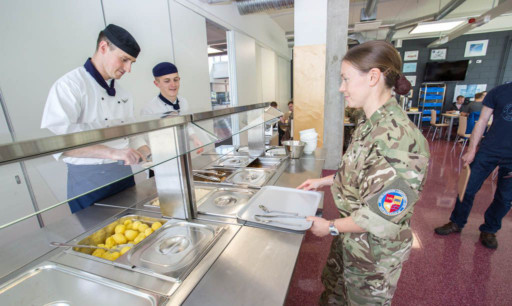 Amid Typhoon jets, nuclear bombers and the potent threat of Russian aggression, one Broughty Ferry man has been an oasis of calm.
It is RAF chef Scott Jamieson- Moodie's task to provide a taste of home to the men and women of 121 Expeditionary Air Wing (EAW) securing the skies above Estonia, Latvia and Lithuania.
Nato has been protecting the Baltic states since 2004, but additional fighter aircraft were deployed in response to Russia's actions in Ukraine.
They have frequently intercepted Russian fighters and bombers flying near to its former territories, scrambling more than 150 times in response to Russian air activity last year.
That operation needs major support on the ground, with Corporal Jamieson-Moodie and his team playing a vital role in keeping the UK pilots, from Lossiemouth, in the air at their base in Estonia.
Scott, who was a pupil at Dundee High School, said: "Food is very important to the men and women serving out here it is all about morale. An army marches on its stomach and the RAF does the same.
"The type of food we prepare is all classic stuff, like spaghetti bolognaise, chilli and rice, lasagne and roast beef and household favourites like apple crumble and bread and butter pudding.
"The team are working hard and so it is important that they get the right nutrients."
Scott joined the RAF straight from school and is now on 3 Mobile Catering Squadron at RAF Wittering in Cambridgeshire.
The team there are always ready to deploy anywhere in the world to provide a hot meal for the RAF serving abroad.
"We had the request to come out here and provide our own British food and it has gone down very well," he said.
"Being on a mobile catering squadron we would normally deploy into what we would call a field kitchen.
"This means that we would go out with our kit, a tent and the operational field catering system which we would set up and then feed people from that.
"It is a bit of change coming out to a well-founded site and actually operating from a hard-standing kitchen."
Nato's Baltic Air Policing is being provided by the RAF Typhoons and Norwegian F-16s, supported by Italian Typhoons and Belgian F-16s.