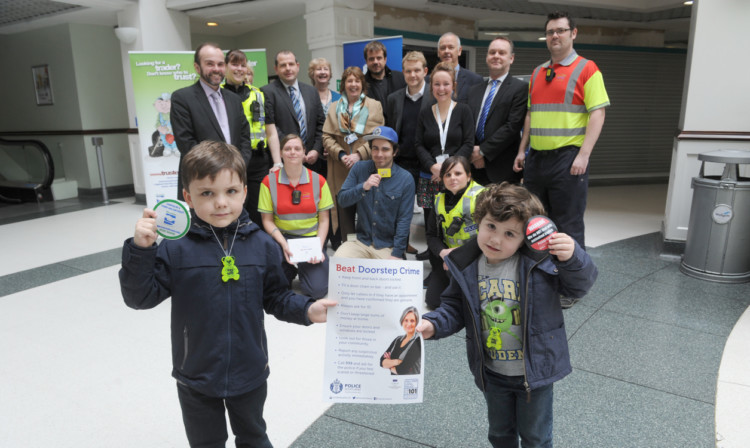 City residents are being urged to be vigilant against bogus callers and rogue traders.
Police and the city council teamed up to launch a campaign against doorstep crime in all its forms.
Their aim is to increase people's awareness of the risks, especially to the elderly and other vulnerable members of the community.
They also want to give residents the confidence to deal with cold callers who try to take advantage of their trust and goodwill by tricking their way inside to steal or seek payment for work that is shoddy or never done.
Sergeant Allana Lewek of Police Scotland said: "We are here today, but also available through the year, to offer advice, support and assistance to residents in relation to what is a wicked crime that very often leaves the victim shattered.
"But we also want to listen. We want to hear if anyone has information that can support our targeting of such offenders.
"It's not unheard of that victims wrongly believe they have been caught out by their own gullibility and won't report a crime.
"We would urge them to report any and every incident. The more information we have, the better action we can take. The people responsible for this type of crime are very well practised in their approach and their patter. Their victims aren't gullible, but sadly just too trusting."
To assist the campaign, Police Scotland has launched the Nominated Neighbour Scheme, which aims to foster local support for those who choose not to answer their door to cold callers.
This sees a neighbour offering to help ensure that a visitor is genuine by checking their ID. More information on this can be found on the Police Scotland website or by calling the local community policing team on 101.
City councillor Craig Melville said: "We work closely with our partners in the police to crack down on doorstep bogus callers.
"Our advice for people is to not deal with unknown tradesmen at your door and to use the council-backed Trusted Trader scheme instead."
Police advice is for people to be on their guard against doorstep crime.
A force spokesperson said: "Criminals of this type often operate in small teams of two or three. Be suspicious of anyone cold calling at your door offering to do work, or to fix a problem you have no prior knowledge of.
"Equally, do not trust anyone who calls asking for a drink of water or use of your bathroom, for example. Do not let yourself become a victim.
"People tend to ensure that their home is secure when they're out. It should be the same when at home keep doors closed to prevent people from simply walking in. If the door has a chain, use it."
The spokesperson said that if someone calls claiming to be a workman of any description, householders should demand to see their identification.
Genuine workmen would not object and should have appropriate ID. In some circumstances, it may be wise to make them wait outside and contact the company or organisation they claim to be with for verification.
"If, for whatever reason, your suspicions are not satisfied, do not let that caller in. Shut the door and call the police," the force spokesperson said.
Anyone with information that can assist police inquiries into doorstep crime should call 101. Information can also be provided anonymously via the charity Crimestoppers on 0800 555 111.