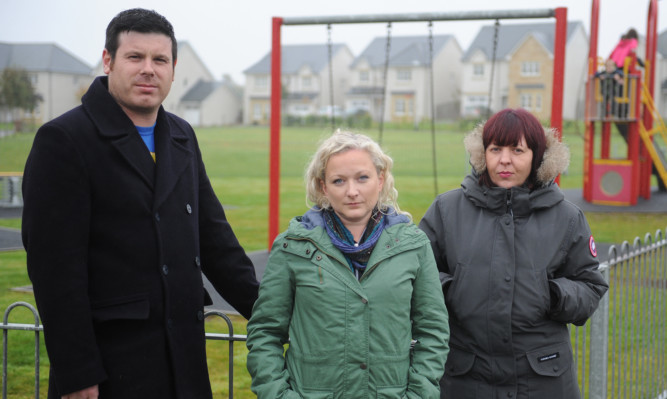 Angry residents in the north of Broughty Ferry say they are being "dragged into" a West Ferry row over proposed boundary changes.
The boundary commission'srecommendation would see West Ferry move from the Ferry council ward into the East End ward.
The council-backed proposal is designed to increase representation and make sure wards across the city are a similar size.
West Ferry Residents Action Group, who oppose the move, will submit a counter-proposal tonight for Ferryfields, Clearwater and Balmossie to join the North East ward instead.
The group insist this is a "last resort" with its preferred option for the Ferry ward to remain unchanged.
However, Ferryfields residents have hit back, with one claiming the counter-proposal was "pitting one community against another".
Ferryfields mother-of-one Vicki Bell said: "They have our sympathy but don't drag us into it.
"Our main concern is that if aboundary change is implemented, shortly thereafter there will be a school catchment change."
Another Ferryfields resident accused the West Ferry campaigners of "playground bully tactics".
He said: "They can try and spin this any way they like but they are clearlytrying to pit one community against another and it's just not on.
"Those in the West Ferry are in a fight with the boundary commission fine, they have my sympathy but it is their fight.
"Just because we live on the other side of the A92 doesn't make us any less a part of Broughty Ferry.
"To suggest Clearwater Park andFerryfields should be excluded fromthe Ferry instead of them really isplayground bully tactics."
The issue will be discussed at ameeting of the local community council, which is expected to back the no change position, at Broughty Ferry Library tonight.
West Ferry Residents' Action Group spokesman Brian Cunningham said the counter-proposal was a last resort if all other options were exhausted.
He said: "I can see why people might be getting a bit irate because they've heard this, but they're not getting the whole story.
"It's not Broughty Ferry turning in on Broughty Ferry.
"Our common enemy is the boundary commission's proposals and we just hope that they see common sense and go for no change, which is the preferred option.
"We're being pragmatic. If we're forced against the wall and we have to give over some of the electorate, there are more logical areas in Broughty Ferry than what they've selected already.
"If they're absolutely determined to move electorate out of Broughty Ferry then we're pointing out that West Ferry is not the place you would look, because it contravenes all their criteria, which is established historical ties."
A Ferryfields Residents' Association spokesman said: "We are going to have representations made at the community council meeting and then we'll have to take it from there."
The community council meeting takes place in Broughty Ferry Libraryat 7pm.