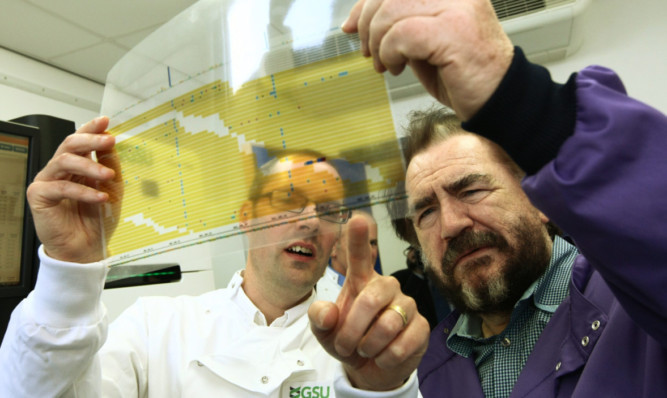 In the second X-Men movie, Brian Cox played a baddie intent on wiping out all mutants on Earth.
On Monday, he learned he has plenty of mutations when he launched the genomic sequencing unit at Dundee University.
His own genetic make-up, or genome, was analysed with the help of a special instrument.
What scientists found by looking in minute detail at his blood sample was that Brian's genome has more than four million variants or mutations compared to a reference genome.
About 12,000 of these were causing some sort of change to the proteins his genes make.
The actor, who is rector of the university, has diabetes and has long been a supporter of research into the condition.
His genome was studied by Dr Christian Cole, who looked specifically for signs in 11 genes known to be associated with diabetes. He found an increased risk in five of them.
He also found Brian has an increased risk of developing eczema.
Asked about the results, Brian said: "I will have to sit down and study it. My diabetes, interestingly enough, as far as I can tell, is much more conditional than genetic. There are genetic elements but it is much more about conditions, which is true for a lot of diabetics."
Brian does not have eczema, but his wife's sister and his son have it, a sign of the complexity of how we are all affected by our genetic heritage.
"I imagine that every person who comes along, their story is telling a new story," he said.
The growth in life sciences since his involvement with the university had been phenomenal, he added.
The sequencing instrument has been acquired by the university's centre for dermatology and genetic medicine and will help track down faulty genes and try to develop therapies for incurable skin conditions.
It will also be used in other applications for colleagues at the university and beyond.