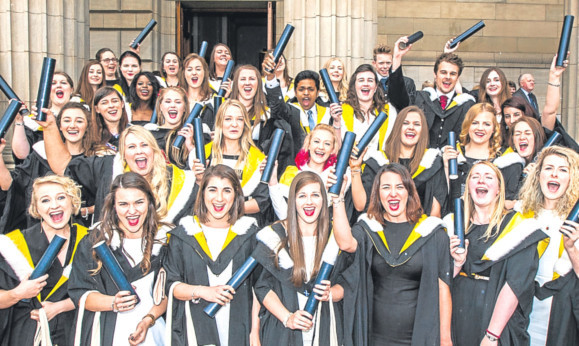 Dundee University has received a record number of applications for places next year.
The university has received more than 21,000 applications for 2016-17, up 5% from the year before.
The deluge of applications had meant it has taken the university longer than normal to issue offers to prospective students.
A spokesman said all offers conditional and unconditional would be made by the May 5 deadline for applications made by January 15.
Professor Karl Leydecker, vice-president (learning and teaching) at the university, said: "We are delighted but not surprised by the significant increase in applications this year.
"Dundee is one of the UK's leading universities and is the current Scottish university of the year as well as recently topping the Times Higher Education '150 under 50' poll.
"These accolades reflect our international reputation for excellence in teaching and research, a reputation that means some of the brightest minds from around the world want to study here.
"We are also leading the way on widening access to students from the most deprived sections of Scotland and we work hard to support these students once they are here.
"The university also has an excellent record for employability, being ranked in the top 20 in the UK for our students securing graduate level employment within six months of graduation.
"The university regularly tops student satisfaction surveys, most recently being ranked top in Scotland in the 2015 National Student Survey, and we have a close working relationship with Dundee University Students' Association (DUSA), which is consistently ranked top in Scotland and in the top five in the UK.
"All of this adds up to an exceptional student experience in all aspects of campus life that draws in applicants from the local area, across Scotland, the UK, Europe and the rest of the world."
Tim Hustler, president of DUSA, said: "We recently surveyed the current students and 55% said that the reputation of DUSA swayed them in their decision to come to Dundee.
"This, the university's teaching and research and the many other fantastic things happening in Dundee help explain the popularity."
The university takes in more than 2,500 freshers each year.