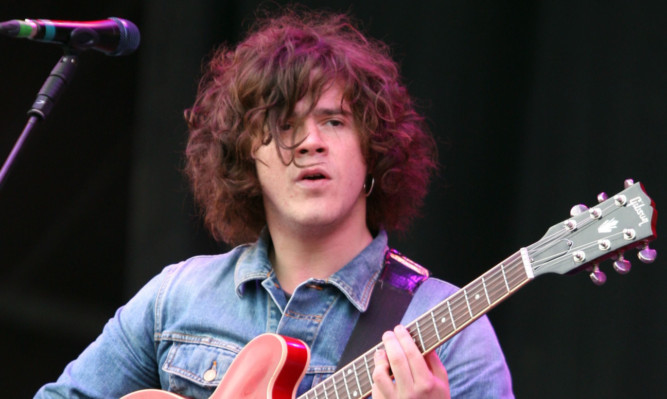 The View have reassured their fans their main stage appearance at T in the Park is still on, despite pulling out of Sunday's Glastonbury slot.
The band failed to play due to lead singer Kyle Falconer's "stomach bug", a spokesperson for the Dryburgh foursome said.
It was announced on their Twitter page that due to illness, the band were unable to play at the festival.
The message stated: "We're gutted, as Glasto Fest is the best festival in the world."
The band's spokesperson said: "Due to illness The View had to pull out of their Glastonbury performance.
"The band except Kyle travelled to Glastonbury on Saturday night and the plan was for Kyle to rest up in London and travel to Glastonbury on Sunday morning.
"But he was too ill to travel this morning and it meant we had to cancel our performance. We are sorry to the organisers and fans for not getting to Glastonbury especially after our amazing gig at Hard Rock Calling with Kasabian on Saturday.
"We can assure fans that all will be fine for the T in the Park show and promise an extra special performance at our favourite festival."
This will be the sixth time The View have performed at T in the Park, having begun their relationship with T through a packed-out T-Break stage in 2007.
Kyle, Kieren, Peter and Steven then had the 12,000-capacity King Tut's tent bursting at the seams in 2009 before first appearing on the main stage three years ago and again in 2011.
They appeared there again last year, this time masquerading as the Dryburgh Soul Band.
DF Concerts chief executive Geoff Ellis has previously told The Courier: "The View can play every year under my watch, if they want to."
Preparations have already begun for this year's 20th Anniversary of T in the Park at Balado, with the contractors on site preparing the stages for what becomes one of Scotland's biggest population centres for the weekend.
The promoters are hoping for a total of 85,000 music fans each day.