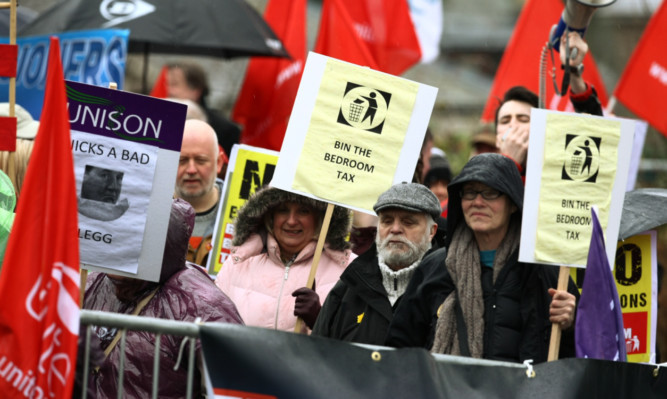 Dundee City Council has denied ditching a policy that would prevent the eviction of tenants who fall behind with rent as a result of the so-called "bedroom tax".
The UK Government's welfare reforms will see more than 3,300 tenants in Dundee have their housing benefit cut by up to 25% if they are deemed to have extra bedrooms in their home.
Householders in the city are expected to lose more than £2 million an average of more than £600 per year each and will have to make up the difference themselves.
Earlier this month the SNP council made a year-long promise not to evict tenants who fall into arrears.
The pledge was trumpeted by Alex Salmond at his party's conference on Sunday, but former housing spokesman Jimmy Black appeared to contradict the First Minister while giving evidence to a Scottish Parliament committee.
Under cross examination by the convenor of the welfare reform committee, Mr Black said "cover against eviction disappears" if a tenant in arrears declines alternative accommodation.
He told MSPs: "Every case is dealt with individually. If our offer of a smaller flat was turned down, but the person gave us a good reason for doing that, I cannot imagine that we would want to evict them in those circumstances.
"However, let us say that we offer that person a flat that was the ideal size for them according to the UK Government, anyway and which was in the same area and would therefore not disrupt their family, their children's education and so on. "If they still said no if they said that this is a bedroom tax and they are against it what are we going to do?
"In those circumstances, I think that we have to decide what our responsibility is to all our other tenants."
Labour MSP Jenny Marra said the council's no evictions policy is "SNP spin".
"The SNP in Dundee does not have a 'no evictions' policy after all," she added.
Mr Black told The Courier the Labour Party has "misrepresented" his comments and denied that the policy had been ditched.
He said: "If tenants are making all reasonable efforts to avoid falling into arrears we'll use every other legitimate means of collecting rent apart from eviction.
"If they don't have a good reason for turning down an offer of a smaller house it would be reasonable to say they haven't taken all reasonable steps and we have the option of eviction available to us.
"I strongly deny that I have changed the policy. What I said is at the committee is entirely in line with the policy. I can't help it if the Labour Party misrepresents me, because that's what they've done."