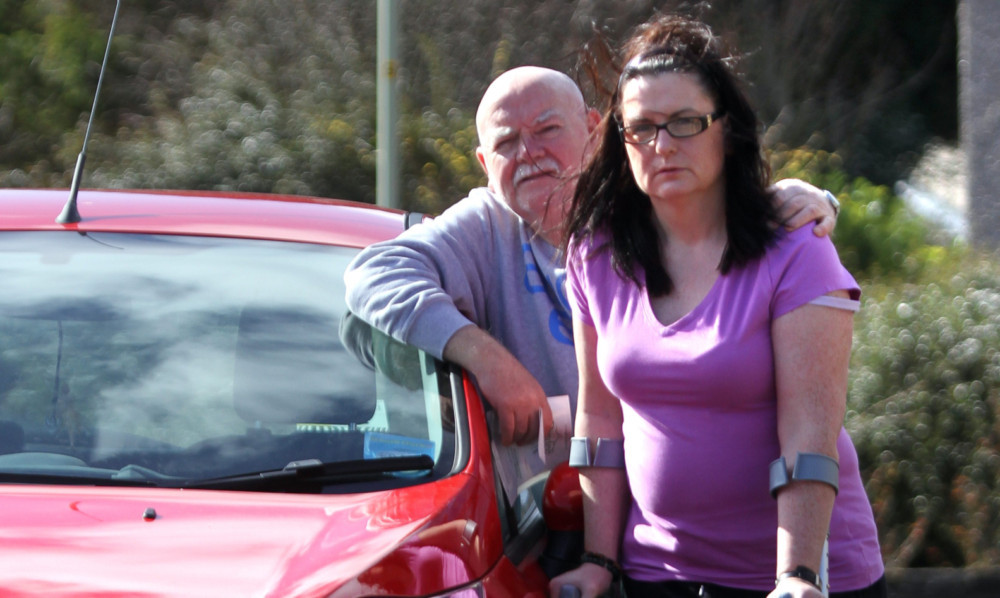 Traffic wardens have been accused of having "no common sense or discretion" after targeting cars belonging to residents who have been unable to park in their driveways due to council pavement repairs.
Invergowrie Drive residents are up in arms after receiving parking tickets after moving their cars to allow Tayside Contracts workers to resurface their pavements.
One man, whose daughter is housebound after being severely injured in a horse riding accident recently, got a fine after he parked on a single yellow line while bringing provisions to the 44-year-old casualty.
Another man's car was ticketed despite only being partially on a single yellow line for half an hour while he and his wife gave their grandchildren lunch.
The plight of Kimberley McNab, who was left with a broken leg and an ankle shattered into 16 pieces after she was flung from a horse in Templeton Woods on Mother's Day was highlighted in The Courier last month.
She is recovering at home but her movements are still severely restricted and she relies on her mum and dad to take her to hospital for physio and to provide her shopping.
Her dad Tom said: "It's actually ridiculous. Tayside Contracts are in the road and we can't get in or out of our driveways because they're re-tarring the pavement.
"The workers are fine but there are cones shutting off the cul-de-sac and so we have to try to find a space somewhere nearby.
"The only spaces without yellow lines are taken up by Ninewells Hospital staff parking in our street every day, but Kimberley is getting constant attention and I came by to drop off some stuff and I have to park fairly close to take her out to physio."
Another resident, Carol Soutar, said her husband had parked in the street with only the rear third of his car over the yellow line.
She said: "It's a bit rich that there doesn't seem to be any sort of discretion shown. We've got Ninewells staff parking outside our windows every single day and in all my time in this street I've never seen a traffic warden.
"Yet lo and behold when they're working on the street two wardens suddenly appear and start putting tickets on residents' cars."
Lindsay McLaughlan, who lives close to Kimberley, said she saw the warden and rushed to warn Tom, but it was too late by the time she alerted him.
"I spoke to the warden and told him we can't get parked there because the street is coned off and we can't get into the driveway, but he wasn't helpful at all," she said.
"He just said to phone the council parking office number. We're residents and we could be just saying 'to hell with it' and park in front of the cones."
A spokesman for the city council said: "We are looking into the matter."
Last month, Kimberley's daughter Samantha was hailed a "hero" as she waited at her mum's side until paramedics arrived after her accident.
Kimberley was left in agony on the ground, but managed to phone an ambulance.
Samantha jumped off her horse to help her mum and kept her awake while waiting for the rescue services to arrive. Luckily, two of Kimberley's friends soon arrived and took care of her and took Samantha back to the stables.
It took five people to carry Kimberley out from the woods because of the rough ground and the fact they had to keep her as still as possible.