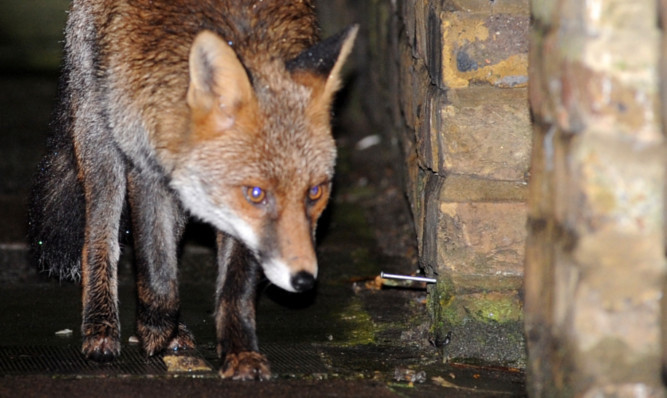 An urban fox attack in a garden left a pet cat needing its leg amputated and sparked a warning for other pet owners.
Graham and Ingrid Meade rushed outside their home in Clayhills Grove, near Ninewells Hospital, after hearing the screams of nine-year-old Tiddles during the attack on Sunday.
They were able to chase away the male fox, which was trying to carry her off, but the cat was left with severe injuries.
Mr Meade said: "All of a sudden we heard a scream and rushed out to find a fox had her by the paw. We chased it away but her leg was so broken it couldn't be saved.
"I think it was hoping for a quick feed and thought it had got one. If we hadn't intervened I think it would have taken her. It was really quite a big fox, about the size of a small Alsatian."
A vet told the family there was no choice but to amputate one of her back legs and Tiddles was only able to return home after the operation on Wednesday evening.
This was not the first time Tiddles has been attacked, and Mr Meade said they normally keep her in after dark ever since an incident two years ago which left her with puncture wounds in the stomach.
Mr Meade said the family has become used to seeing a family of foxes, which live on waste ground out the back of the close, but said they have been becoming bolder and moving closer to the house.
They have even stolen hose pipe attachments and his children's footballs on occasion, and Mr Meade said more pet owners needed to be aware of the risk to their animals.
He said: "Foxes are scavengers. They will eat anything and they are becoming more and more urbanised."
"When Tiddles was attacked she was on the footpath right outside the front door. It was that close. Had we not gone out I'm sure it would have killed her."
Scottish SPCA chief superintendent Mike Flynn said: "Unlike the wild fox, urban foxes are born and bred in our towns and cities and are familiar with the sights and sounds associated with living close to people.
"Anyone with small pets should remove them from runs and keep them secure in a hutch overnight. The vast majority of foxes do not present any risk to the public, but we would advise people to leave them alone."