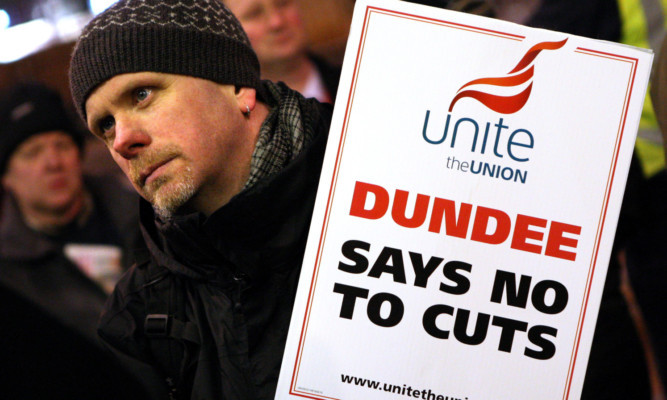 Campaigners had a clear message for Dundee councillors last night "You were not elected to bring in cuts."
Trade unionists and other groups gathered outside the City Chambers to protest ahead of the last full meeting of the city council before a budget is set for 2013/14 on Thursday.
They had wanted to address councillors at the meeting but were unable to do so for procedural reasons.
Instead, they handed out leaflets explaining their opposition to the proposed £6.5 million in savings from the £337.6m revenue budget.
Included is a demand for external organisations that provide social care services to make efficiency savings of 5% of the value of their contracts with the council.
The biggest loser from that proposal, Gowrie Care, said it was disappointed by the move and was having to explore other ways of generating income to try to ensure the care and support it provides to people with learning disabilities and mental health issues were not affected.
Mike Arnott, of the Defend Dundee Services Campaign, said: "We have got a sizeable lobby out here of various trade unions and the pensioners' forum to show our displeasure. We hope that message carries through to Thursday when we are going to have more people down here and we are actually going to get into the chambers and speak to the councillors.
"The message to the councillors is 'You weren't elected to bring in cuts'. You didn't have cuts of £14 million over two years in your manifesto.
"The knock-on effect of these cuts on the voluntary organisations providing services to some of the most vulnerable people in Dundee you don't know what they are. We don't think you know.
"These organisations are having to do rapid recalculations of the budgets they have and what services they are going to be able to provide."
The council's SNP administration has blamed Westminster for tightening the purse strings of local government.
Asked if he accepted that argument, Mr Arnott said: "Can the administration show us what they have actually done about that?
"What have they done to campaign, where is the evidence that they have gone back to Holyrood or Westminster and said this is isn't good enough?
"It's just like a crazy game of pass the parcel it starts off in Westminster, comes up to Holyrood and sits here and they just administer it, they just pass it on."
The SNP hold 16 of the 29 council seats, which makes it likely its budget will pass on Thursday.
Council finance spokesman Willie Sawers insisted the administration acted to protect frontline services and maintain the council's commitment to freezing council tax without compulsory redundancies.
Talks with unions also saw a decision not to impose a cut in mileage allowances for employees earning less than £20,000 a year.
He said: "The austerity agenda and the ongoing cuts that are being forced on us by the Westminster Government are presenting us with very difficult choices here in Dundee.
"As an administration, not only have we protected our workforce by sticking to our policy of no compulsory redundancies, we have also been able to introduce the Living Wage of £7.50 per hour for our lowest paid employees."
The administration has said it had acted to cushion external bodies from budget cuts in other years.