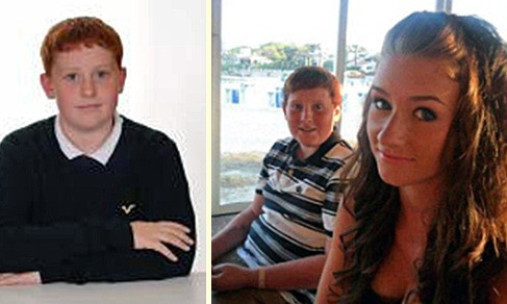 A heartbroken father has told how his teenage son was sent home from hospital hours before he died of meningitis.
Gregor Smith deteriorated rapidly after being diagnosed with a viral infection and was rushed back to hospital where he died surrounded by his devastated family.
The Fife 13-year-old's father George said the hours leading up to his son's death were every family's worst nightmare.
"No sister especially, and no father and mother should have to see their child go through that much pain and confusion," he said.
"The only sentence I can use is meningitis raped my son inside out. It has left a huge hole in our lives and we don't know what we're going to fill it with."
George, Gregor's mum Jenny and older sister Rachel (15) have been receiving support from staff at Meningitis UK, which is trying to find a vaccine to prevent meningococcal septicaemia, the virulent strain of the illness that killed Gregor.
A collection in aid of the charity will be taken at Gregor's funeral next week.
At his Kirkcaldy home, George (45) said his football-mad son was happy and healthy until the day he died.
The popular Manchester United fan had been playing with local side Kirkcaldy United, which is coached by George, on Saturday morning, and had gone out after lunch to play again at the astropitch at Kirkcaldy High School.
In the evening a friend came for a sleepover and George said: "They played and wrestled and ate sweeties just a normal boys' night in. He was laughing and joking like normal."
Gregor, an S2 pupil at Kirkcaldy High, woke in the early hours complaining of feeling hot and shivery and his family were told by NHS 24 to give him paracetamol.
However, by morning his lips and eyes had a bluish tinge and NHS advisors told his dad to take him to Victoria Hospital.
"I took him down and went to book him in and he just fell asleep in a chair," said George, a production manager with Glenrothes firm Semifab.
The youngster was violently sick as he was being examined by a doctor and had developed a rash on his arms. However, he was sent home and went to bed.
Around 40 minutes later a worried George noticed dark purple spots appearing on Gregor's face and phoned NHS 24 a third time. This time an ambulance was called.
"We got to hospital and the rest was the worst nightmare of our lives," said George. "Gregor was so confused about everything. He got very paranoid and was blaming everyone, including myself, for killing him.
"He knew he was dying and he wanted to come home. The doctors put him to sleep and I never heard my son talking again."
Gregor deteriorated further and died an hour and a half later.
"The doctor came through and said I'm afraid your son has died," said George. "I can't believe that in a 24-hour period I went from seeing such an active, happy boy who was laughing and nicking sweeties to being told he was dead."
The Smith family has been inundated with sympathy and tributes to the 13-year-old, who, as well as playing football, swam and played basketball and table tennis.
They have even received a message from Manchester United manager Sir Alex Ferguson, who said the club would also be making a donation to Meningitis UK.
Special thanks was reserved for Kirkcaldy High, and in particular rector Derek Allan, who has been hugely supportive.
"He has been in contact with us every single day and night and is helping Gregor's friends come to terms with things," said George.
Gregor's funeral will be held at Kirkcaldy Crematorium on Wednesday at 11.45am.