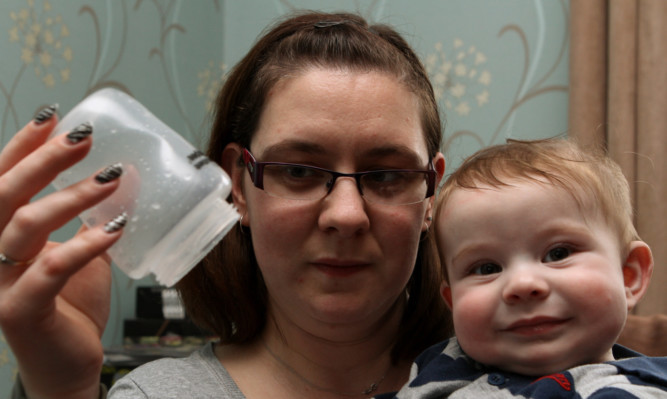 A Fife mum has vented her fury after a cut-off to her water supply left her unable to make up her baby's bottle.
Jillian Guthrie's water supply was out for around four hours when contractors for St Andrews University's green energy centre struck a pipe near her home in Guardbridge.
After realising there was a problem at 5.30pm last Thursday, she twice contacted Scottish Water worried she would be unable to make up six-month-old Jamie's formula milk and wash and sterilise his bottles.
However, the utility company refused her requests for bottled water and failed to direct her to the contractor which handed out supplies to other residents affected by the incident.
It said it was confident that the supply would be returned quickly and that repairs were complete by 9.40pm.
Hitting out at Scottish Water, Jillian said: "The fact I was left with no choice but to do a 20-mile round trip to Dundee at 9pm at night to buy water as we had a baby whose bottles we couldn't make up was horrendous.
"I find it disgusting Scottish Water could leave us like that. I twice asked for bottled water and was refused it. They said that it wasn't their fault, it was the contractor, but that makes no difference to me."
Jamie is on lactose-free milk so Jillian and husband Stuart who have four older children Sarah, 13, Aidan, 10, Rachel, seven, and four-year-old Natasha were unable to use ready-to-use formula milk and reckoned the large bottles of water she needed would be unavailable in St Andrews.
A spokesman for Scottish Water said: "We were alerted to some disruption to customer supplies in the Guardbridge area at around 6pm last Thursday.
"This was as a result of third party damage to a water main. A repair squad was sent out and repairs were completed by around 9.40pm.
"We recognise that this disruption as a result of third party damage will have been inconvenient to customers and we apologise to those affected.
"We are always happy to support vulnerable customers, for example providing bottled water to those with young children, and would provide bottled water for all customers affected by longer periods of disruption.
"In this instance, when the customer contacted us we were confident of being able to restore supplies quickly, and were able to do so shortly thereafter."
A spokesman for the university said: "We would like to express our sincere apologies to Mrs Guthrie and other residents who were left without mains water on the night of Thursday, March 10.
"Contractors were able to provide bottled water to residents who got in contact with them.
"A special 24-hour hotline number of 07922 374674 is in operation for the duration of the road closure."