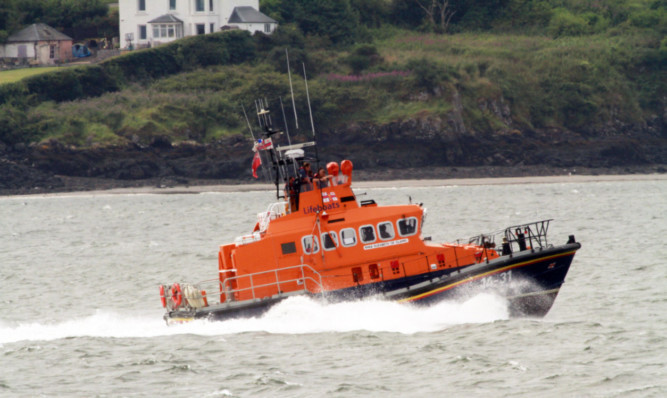 The volunteer crews at Broughty Ferry lifeboat station made more life-saving call-outs last year than any other station in Scotland.
It had the busiest boats for the fourth year in succession during what was a record-breaking 12 months for the RNLI.
More people than ever before were rescued by crews in Scotland, according to the charity's latest official figures.
The Royal National Lifeboat Institution said that 1,175 people were rescued in 2014, compared with 1,008 the previous year.
The number of people whose lives were "saved" by the actions of the country's 47 lifeboat stations also doubled.
Broughty Ferry responded to 74 shouts on the Tay and along the east coast though the number of call-outs in fact peaked at 104 in 2011 and 2013.
The Queensferry station, busiest in 2010, was also very active, with crews launching 67 times last year.
Stations at Anstruther on the Fife coast and at Arbroath and Montrose in Angus were each called upon on more than 20 occasions, while crews at Kinghorn made 39 launches.
The RNLI's newest station in Scotland, a trial station at Stonehaven, had eight shouts.
With the number of fishing boats requiring help declining slightly, it was the general public who required the greatest assistance during last year.
The charity reported that more than 40% of all call-outs in Scotland during the 12 months were to pleasure craft in distress.
On one day alone last summer, two neighbouring lifeboat stations were involved in separate incidents that resulted in the saving of nine lives, including those of two children in danger of drowning off the north-east coast.
The RNLI's Michael Avril said the increase in work for the RNLI's volunteer crews illustrated how important it is for people to take care while enjoying Scotland's coastal waters.
"The very nature of the sea means it is unpredictable and can catch out even the most competent water users," he said.
"And it's not just people who set out to use the water who end up in it as walkers can get caught out too as conditions can change very quickly or a trip could mean they end up in the water.
"We would urge people to respect the water and never underestimate the power and strength of the sea."